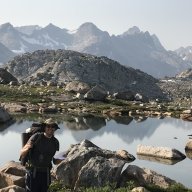 Joined

Mar 1, 2015
Messages

465
I use a Sawyer Squeeze for water filtering and it has mostly been a good solution for me (other than the constant concern about keeping it from freezing). I have two questions though:
I've had bad experiences with the Sawyer bags used for dirty water. I am always careful with them and gently roll them when filtering, and I have still had a few fail spectacularly on me. A second, more minor, complaint is that they are a pain to fill up; they don't open all the way unless you blow into the bag just right, and then the small bottle opening makes it hard to fill in some situations (like from a shallow stream or pothole). I know there are alternative third-party bags that are compatible with the Sawyer filters; I have heard of Evernew and CNOC bags in particular. Evernew seems to be lighter and more durable (?), and maybe easier to roll/squeeze, whereas the CNOC bag has the wide opening on the bottom making it easier to fill in many situations. Does anyone have any experience with these?
I've never really figured out the pre-filtering thing for silty water in the desert. I've tried using paper coffee filters and bandanas when I'm worried about the filter clogging, but haven't really figured out how to do this effectively with the Sawyer bags. My solution so far has been to bring my syringe for backflushing along with some purification tablets, and if the filter keeps getting too clogged, I just switch to the tablets and I deal with it. But I know this wouldn't cut it with really silty sources (which I typically just avoid). If anyone has any tips for how to pre-filter or avoid the filter clogging in general, please let me know!
Thanks
Ryan