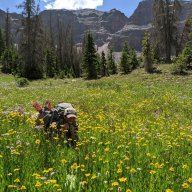 Joined

Feb 12, 2014
Messages

722
July 9-11, 2020
My brother and I decided on doing this loop in the Sawtooth Mountains:
Day 1- Redfish Lake to Hell Roaring Lake (10.25 mi)
Day 2- Hell Roaring Lake to Edna Lake (10 mi)
Day 3- Edna Lake to Redfish Lake (14.25 mi)
This ended up being a total of 34.5 miles.
We originally planned to make this 4 days/3 nights, but on day 3 we were on a decent pace and decided to hike all the way out instead of camping at one of the Cramer Lakes.
Here's our journey:
We started at Redfish Lake, this is looking south at the ridge we would be hiking up and over.
Here are the happy explorers ready for the fun!
Approaching Redfish Inlet on the south end of Redfish Lake.
This is a new bridge they just built that crosses the stream.
So new that they haven't even finish the stairs to the bridge yet. They did finish the stairs while we were out, but I forgot to take a photo of the completed work...dang it!
This is on the trail looking north toward Redfish Lake Lodge where we took the boat ride across.
Crossing into the wilderness.
Made our way up and over the ridge, the trail was covered in lots of deadfall. This is Hell Roaring Lake where we would camp for the night.
Hell Roaring Lake
Made our way to Imogene Lake where we would stop for lunch. Great spot for lunch or to make camp...very nice lake!
Now it's time to hike up and over the pass.
Looking back at Imogene Lake
Made it to the top, this is looking over the other side at Sand Mtn.
Looking back up at the pass, Imogene Lake is on the other side of this pass.
This is the way.
A couple cornices/drifts that I thought looked pretty cool.
Made it to Edna Lake where we would make camp for the night.
Here's our camp.
The next day we found Hidden Lake!
Found a great stream to fill up our water...this water was so cold and crystal clear! Amazing tasting water too!
Looking up at the pass to Cramer Divide.
Atop Cramer Divide looking over some Sawtooth goodness!
I believe they call this The Temple.
After hiking down from Cramer Divide, we made it to Upper Cramer Lake. Starting at Cramer Divide we started to see many many more people. Cramer Lakes are very popular. before this we didn't see many people.
Another great spot to stop and eat lunch while enjoying Upper Cramer Lake and Mt. Cramer.
We decided to continue on and this is the view most of the way out.
While hiking down the trail, this little grouse scared the ever living Hell Roaring Lake out of me. I was hiking with my head down looking at the trail just enjoying my hike, and all of a sudden this little lady came charging at me. I let out a nice scream (and maybe a little pee too). I was not expecting that! It was fun to laugh about and I had to take a picture. She hung around to make sure we left her turf.
Later on just passed Elephants Perch we noticed some new huge boulders that recently smashed up the trail. You may remember the earthquakes of 2020. This is from a huge quake that's epicenter was pretty close by.
Here's another boulder.
And here's the path it carved out of the mountain. I can't imagine the violence this had smashing its way thru the forest.
Another boulder, and my brother for some scale.
there were dozens of boulders this size that smashed up the trail and the entire area. The forest service did do a good job cleaning it up and repairing the trail the best they could.
Redfish Lake is finally in view.
Here we are.
Waited for the boat to come pick us up at Redfish Inlet and take us back to the madness that is Redfish Lake Lodge on a July weekend. We had a pretty good funky smell. Some looked at us strangely, others with jealousy of our trip we just finished.
Our post trip meal was at Bridge Street Grill in Lower Stanley...it's pretty much the most amazing place on Earth!
That's our trip, feel free to comment or just admire our fun weekend loop in the Sawtooths.
Last edited: