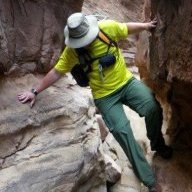 Disappointed, passed over.
Joined

Jan 17, 2012
Messages

1,529
My last few trips to the San Rafael Reef were done with a particular destination in mind, but this time I just picked a canyon at random and hiked up it. I drove down after work on Friday and made a quick stop in Iron Wash. There's an old pioneer signature there that I wanted to see, and I found some other undated initials carved in the sandstone that looked pretty old. I also found a shallow cave with grinding marks and sharpening grooves, plus plenty of soot and old charcoal inside, but unfortunately no rock that I could see in the area. After leaving Iron Wash I drove a short distance and found a place to camp near the canyon that I wanted to hike up. I built a fire pit and got a fire going so I could cook some dinner, then set up my tent and relaxed around the fire and read a book. Watching the waning full moon rise over the La Sals was a treat.
Parked at the barricade in Iron Wash
J.A. Watt signature
Small cave in Iron Wash
Grinding marks at the mouth of the cave
Sharpening grooves
View out of another cave in Iron Wash
Getting a fire going
Camp fire
Tent and truck
Moon rising over the La Sal Mountains
My shadow in the moonlight
I was up early on Saturday morning and started hiking at about 8:00AM. The lower part of the canyon was not terribly interesting, but I took it slow and kept an eye out for rock art, which I can't help but do in this area.
Farther up the canyon there were some large pools of water, which my dog couldn't help but take a dip in. I came to a large pool that gets no direct sunlight this time of year and had some sand-covered ice in the bottom, and a large dryfall above it that looked impassible. I had to do a steep scramble around one side to get past it, and it took some effort to shove my dog up ahead of me. Just above the dryfall was a narrow side canyon full of water. If it had been dry, I would have loved exploring it. In the main canyon above the first big dryfall were several smaller ones that were impossible for me to climb, but again I found a way around them by scrambling out of the drainage. Not far after getting back into the main drainage was yet another dryfall that I simply couldn't get around--well, my dog couldn't get around it, so that was where I turned around and headed back down the canyon looking for another way up to the canyon rim.
Early morning at camp
An old spur I found near camp
Starting up the canyon
A shallow cave with a few signs of ancient habitation
Small arch in the canyon wall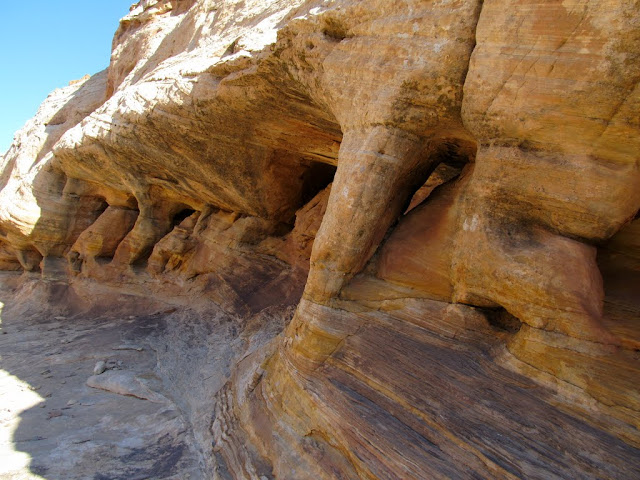 View up the canyon
Torrey in a pool
A large row of Fremont's Mahonia
Just after scrambling around the first big dryfall
Water in a narrow side canyon
A series of small potholes that I went around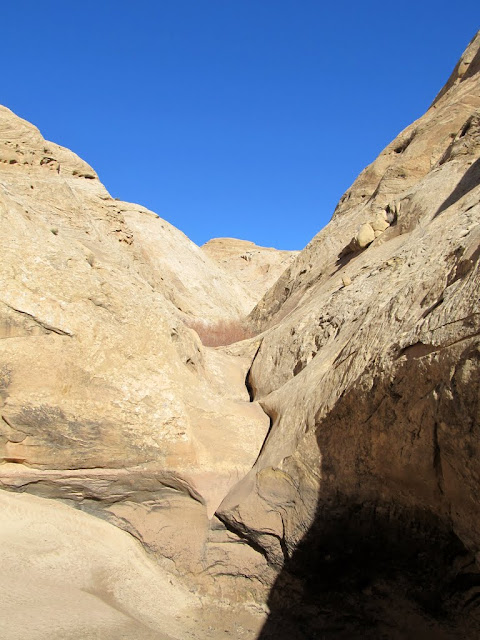 Crazy concretions on the canyon wall
Another dryfall that completely halted my progress
This was as far as Torrey would go when trying to bypass the dryfall
I backtracked more than half a mile before finding a spot to climb out of the canyon. On the way back down, though, I found an arrowhead that I'd walked right past without noticing earlier in the morning. After climbing out of the canyon, I dropped down into the next canyon to the north and started ascending it. Once I saw ahead that the canyon narrowed up and became choked with brush and trees, I started following the ramping sandstone wall on the north side that led to the canyon's rim. After scrambling up and down some sandstone fins and following some brush-choked cracks, I found myself overlooking the canyon I'd originally started hiking up, though I was about half a mile upstream from the dryfall that had stopped my progress earlier. I stopped there for lunch and scouted the canyon below me.
An arrowhead lying in the bottom of the canyon
An adjacent canyon that I dropped into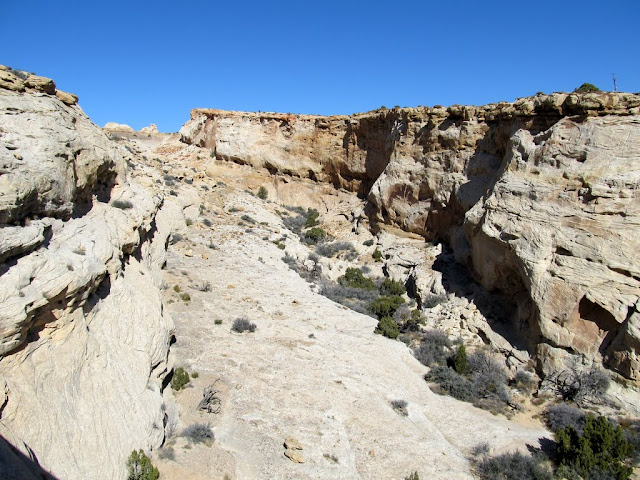 Lots of rockfall in this canyon
Looking back at the ramp I used to hike out of the canyon to the rim
View into the canyon where it narrowed up
Descending a fin
A crack that I hiked through
Aiming for the gap in the center
Bushwhacking ahead
View from my lunch spot, looking down the first canyon I'd ascended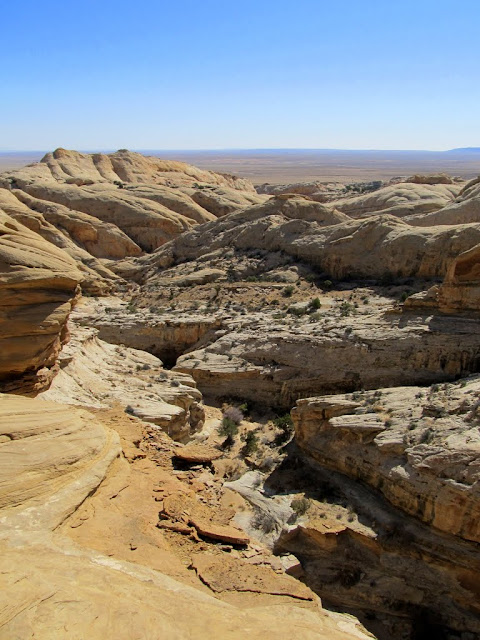 View up the canyon
After seeing what kind of country was ahead of me if I wanted to continue up the San Rafael Reef, I decided to call it a day. The route up to that point had been pretty convoluted, and it was only going to get worse if I kept ascending. I didn't want to follow the same route back, so I continued a little farther up the Reef before rounding a corner and descending back into the section of fins. I exited the Reef through the second canyon I'd ascended, then walked along a dirt road just over half a mile back to camp, where I packed things up and headed home.
I followed this ledge between cliffs to the point on the left
Nice view into the upper canyon drainage
View down my exit route
Many more potholes on the descent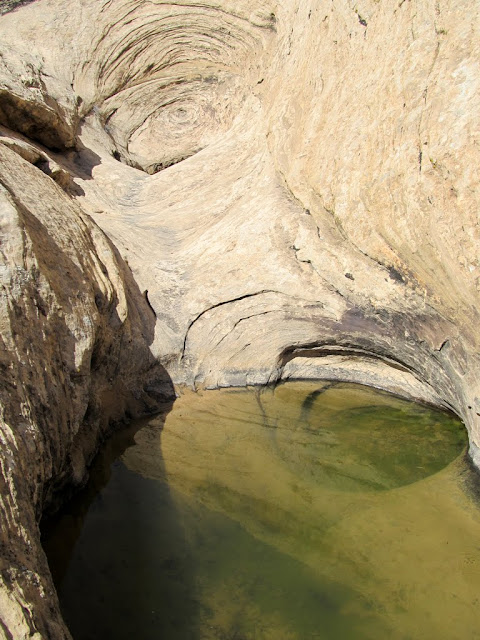 Cutting across some fins
Hiking up a fin
The dirt road back to camp
Full photo gallery:
https://picasaweb.google.com/Dennis.Udink/SanRafaelReefBetweenIronWashAndMormonTanks
Google map & KMZ:
http://g.co/maps/62s8b
http://udink.org/geo/SanRafaelReefBetweenIronWashAndMormonTanks.kmz
Featured image for slideshow: