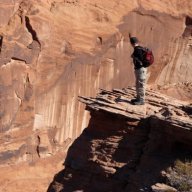 Joined

Jun 16, 2012
Messages

1,487
I think I'm a few trip reports behind, but I'm going to go ahead and post the most recent pictures.
Over the long weekend of October 6, 2012, we headed out for a road trip of the Telluride/Silverton area of Colorado. After reading some TRs from
IntrepidXJ
I just wanted to get back in that area.
We had to stay in Green River on Friday night because every hotel in Grand Junction was booked...I think it was because of a bike race. When we got up Saturday, I decided to head across the La Sals rather than heading over to Grand Junction. It's always more pleasant to take the long, mountain drive than the interstate route. We eventually made it to Telluride, where we had lunch and wandered around town. I hadn't been to Telluride since we lived in Denver about 11 years ago. I debated driving along the road up to Imogene Pass, but I knew the road was a little rough, so we kept on driving down Hwy 145.
While most of the leaves had already fallen, there were still some good stands of aspen with good color. We checked out some side roads looking for some good colors.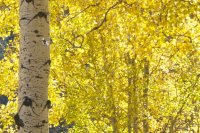 Then we drove over Ophir Pass to Hwy 550, but my wife gets scared easily on those roads, so I don't have any pictures. I was surprised by how small the pass was: you pretty much top out and then just drop back off.
We had planned to camp, but it was stinking cold, so we wimped out and spent the night in Silverton. The next day we planned to hike Highland Mary Lakes first thing in the morning, but, again, it was stinking cold, so we drove some more to let it warm up.
Andrews Lake was really pretty.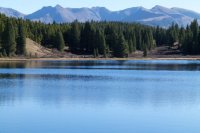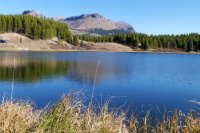 And we found some more color along the Hermosa Park Road.
Then we headed back and hiked the Highland Mary Lakes Trail. The climb up was fairly steep, and the elevation topped out at just over 12,000 feet, but it was a great hike that was really nice at the top.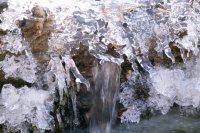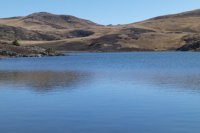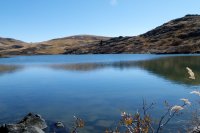 From there we headed out to stay in Ouray because it was stinking cold. The next day we headed back home, taking a side trip over Grand Mesa, because, like Telluride, I hadn't been up there in over 10 years. I really like the Mesa...it reminds me a lot of the mountains back home in Tennessee.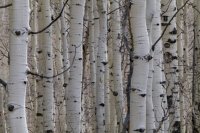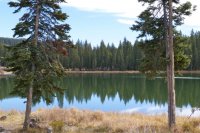 As always, a trip to Colorado reminds me how much I love Colorado. I'm going to have to find me a nice cabin out there someday.
Featured image for home page: