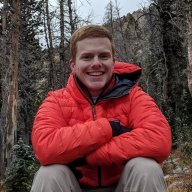 Joined

May 31, 2015
Messages

2,246
My final spring break is coming up next week, and Jessica and I were planning on getting out and backpacking somewhere from 3/14-3/16. We have an interest in going to Robbers Roost Canyon via Angel Point West and crossing the Dirty Devil. In a drier year, I wouldn't be as unsure about doing this, but given how much rain and snow the entire state has gotten this season, would it (1) be foolhardy to drive those roads in an Outback, and (2) be very likely that we'd encounter impassable quicksand along the DD (or even be able to walk across the river at all)?

I've honestly never really seen the Colorado Plateau after such a wet season, so I'm not sure what to expect as far as overall muddiness and such on roads and trails. I'm thinking it's possible that we'll end up somewhere else down there, but I figured I should check on this area.

Thanks for any insights you can offer.