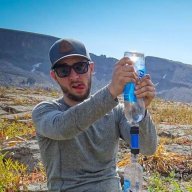 Joined

Mar 10, 2015
Messages

96
Hey, this is my trip report from the Continental Divide Loop in RMNP in September 2017. Things didn't go as well as planned but it was still a fun time. The original plan was to add a trip off trail up to Timber Lake on the third day but we lost the old trail and the terrain and weather proved to be too much for us so we decided not to push it and ended up doing just the standard loop. We had never done any off trail stuff before so we didn't want to get lost or anything.
We spent a day before our hike just exploring the east side of the park and enjoying the views and the elk.
Here is our campsite from before the hike started. We also had elk all over around the camp and walking right into the campground, was pretty fun.
Also just for fun...spot the critter.
Day 1: We hiked about 7 mile to the Porcupine Campsite for the first night. The first 5 miles were great and we had good weather and saw a few deer as well as some horses by the trailhead. After that though it started raining and thundering pretty good. We were in the forest though so we kept on going until we reach the campsite. We then used my friend Sara's tent footprint as a tarp to keep us dry for a few hours while it rained. It was nice having a campfire there to dry off and relax through the night after the rain stopped.
Day 2: This day would end up being a doozy. We were hiking I think 11ish miles over the pass and then down to Lower Granite Falls. This section of the trip has a good 6 miles above treeline and exposed. The day started off nice with sunny weather and good temps. The climb at first didn't seem too bad but it just kept going up and up. I think we only ran into one person during the day and she warned us that it looked like some weather was coming in. This worried me a bit as I obviously didn't want to be above treeline during a storm. My friend Sara was struggling pretty good for the last few miles of the climb which slowed us down a good bit. When I made it to the top I could see some dark clouds around us and you could see it raining off in the distance. Thankfully we made it back down and into the trees before the rain and hail started up. This day ended up taking us a long long time to complete and we made it to camp just a bit before sunset, dark clouds didn't help. We crashed early and I don't think I took any good pics from this campsite. I do remember the river sounding very nice when going to sleep though.
Pika are so hard to get a photo of, but I got a few!
Here we came across a herd of elk right on the trail. Around this time I was feeling a bit of elevation sickness I believe but it passed as we descended.
Shortly after this picture it started raining and hailing so I put my camera away. We hid under some trees for probably close to an hour until the hail stopped and the rain slowed.
Day 3: This is the day our plan was to head north towards Timber Lake but things didn't go as planned. My friend Sara decided she had had enough and was going to hike out back to Grand Lake and stay in town until Kyle and I were done. It was a chilly morning but sunny so we were feeling pretty good. When we got to the Tonahutu trail Sara went south on her own and we went north. It was a pretty easy hike at first and was a pretty beautiful section of the woods. Eventually we got to a sign warning us that the trail ahead was not maintained. We hiked for an hour but hardly made it anywhere. I don't know if we missed a different trail or what but we couldn't hold the trail for long. We eventually were hiking thick downfall and marsh. As it started to drizzle and thunder we decided to head back and find an empty site to stay in. Kyle and I spent an hour at South Meadows hoping nobody would show up but a group of six guys showed up. The site there was great, right on the creak with a great view of Big Meadows.
After talking to them a bit we hiked a short distance up to the Green Mountain site where we were supposed to stay the next night. It was a pretty cool spot but getting back down and over to water was a bit of a walk. It doesn't have the views of the meadows but is still not a bad place to spend a night. As we started to eat dinner it once again started to rain, thankfully not too hard but enough to force me under a tree to eat. It rained off and on for the remainder of the night. The worst part of the night actually was down at the Big Meadows Group site was a large group of kids and we could hear them screaming for much of the night.
Kyle holding up some hail from the day before.
After the 1.6 miles was supposed to be another 3 or so miles before we got to the Timber Lake Trail.
Drying out the tent before it rained...yet again.
I had brought my hammock on the trip and used it a little to lay in and as a chair when it wasn't raining.
Day 4: We thought about staying put for another night but since Sara had hiked out already we figured we would be nice and head out too so she wouldn't have to spend another $100+ on a hotel. The hike out was easy, downhill and the trail was very wide. I didn't take many pictures as we hiked out with a quick pace, was only 4 miles or maybe less.
So in the end the trip was kind of a failure but I still enjoyed it. I am a little disappointed in myself but I'm planning on redeeming myself with my first solo trip this April. It rained every day we were in the park besides the last day when we left. Once again my friend Kyle was not prepared for the rain and only had a wind breaker to try and stay dry. The wildlife we saw was nice and some of the views were amazing but out of the four national park hikes I've done so far this trip was far from the best but it still beats a week at work!
I hope the report was at least a little interesting and thanks for reading!