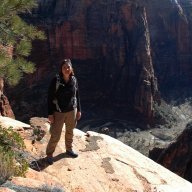 Joined

Jul 16, 2014
Messages

100
I have hiked the day hike in Right Fork off the Kolob Terrace Road from the bottom up to Barrier Falls several times. It's a long way to the payoff, but once you're there it's an amazing place. It comes complete with poison ivy, beavers and biting deer flies in the summer but it also lacks the crowds of it's sister, the Subway. This time I was able to go the full route. Technical but no huge rappels. The route finding is the key point and the rugged terrain makes it a one or two night overnight. We did two. I will in no way profess to have been able to do this route finding myself but have been blessed with a son who seems to lack my gene for directional difficulty.
So we start out hiking from Lava Point down the Wildcat trail, dropping in on Little Blue Creek with two rappels. There were no rappels longer then 60 feet the entire trip and a fun variety.
Down into Wildcat Canyon
Heading our way down into Right Fork but coming right back out to avoid the upper section
Our first campsite. A little spring by it's side.
The next day heading through wild and often brushy terrain. I just loved the fact that some of the places I've looked down to from the West Rim trail were now where we were walking through.
Look it's campsite 6 way above us.
Then we come to a dryfall that looks like the end of the world.
But an chute provides the way down. I thought it'd be easy but it gave me some jitters with my pack on.
At the top of one of the rappels, two owls overhead, one carrying a ground squirrel.
And at the bottom, a surprise. The picture is fuzzy because we were careful not to disturb him.
Now the Black Pool, a cold deep corridor. I love water canyons!
Another fun rappel.
And then the Grand Alcove.
After one last night of camping in this magical place, it was time to head down.
The last rappel, Barrier Falls.
A tropical jungle!
Now to familiar territory and yes the poison ivy and the deer flies!