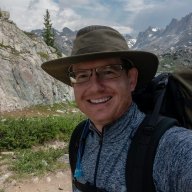 Joined

Apr 8, 2015
Messages

1,027
OK, so this trip report isn't going to be the best. This was definitely the most frustrating backpacking trip I've ever been on, and also the event that ruined my perception of the "Into The Wild" soundtrack almost permanently. So don't expect my best report ever from this one.
Some of the same group of friends from my 2009 spring break in the Gila Wilderness wanted to do another one in 2010. One of the guys had parents that lived in Lexington, KY at the time, and wanted to go to the Red River Gorge/surrounding areas. I pretty much let them take care of any planning/logistics, as this was very much their idea and location. That turned out to be a bit of a mistake.
The hike ended up being 5 days/4 nights long. Very short on miles, because we started off the hike with basically no clue where we were going. More on that later...
We started off at a trailhead next to a bridge over the Red River, and headed Northish. Actually, we didn't start immediately after getting to the trailhead. Due to lack of research, we didn't know that permits were necessary here, so one of the two cars we had went back to the visitor's center and got said permits. When they returned, I asked if they had a map, to which somebody replied "no." Great. We started hiking anyway. I had looked over the area somewhat, and had some vague notions of where the trails went. Looking back, I obviously wasn't super concerned about getting lost, for some reason, but what a dumb way to start off a trip. Our intention was, if I recall, to loop up to the Sheltowee Trace trail and take it back down to the road, as a starter for the trip. Since it was so late, we only made it maybe a mile in before having to make camp.
We were able to find a pretty fair campsite despite all things. This trip was, overall, probably the soggiest one I've ever been on.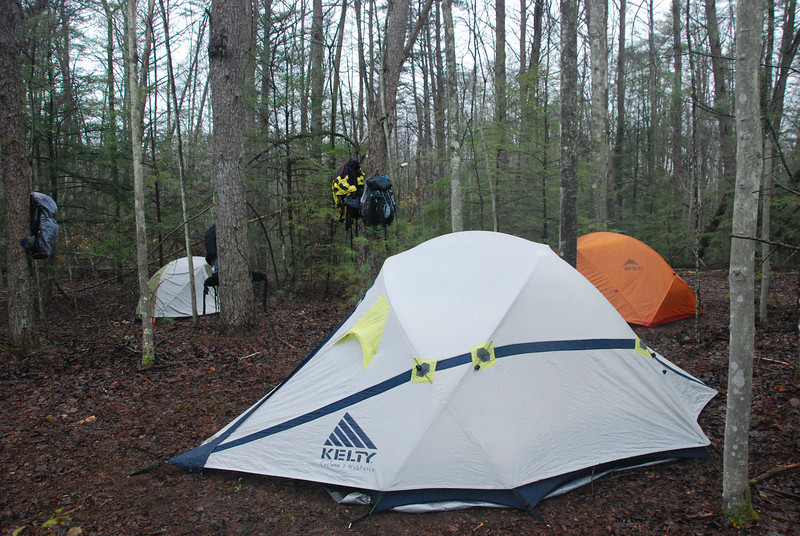 The highlight of the trip was certainly the numerous tiny creeks and wild rock formations. I genuinely enjoyed getting to see a landscape so different from what I'm used to, even though this prairie boy did not feel completely comfortable with endless deep forests.
I don't drink coffee myself, but probably everybody else in the group did. They bought some nice coffee before the trip, but did not realize that it was not ground! So, they resorted to using a hatchet handle to grind the beans in the percolator lid. It wasn't elegant, but worked well enough.
Slick, green tunnel trails were often the name of the game.
Don't know what kind of plant this is, but it was neat.
Much sooner than we expected, we hit a road. I do not recall now how many trail junctions we passed or what signage there was. Seems the signage was good... if you knew the names of the trails or had a map. We didn't posses either of those things. The trail we did follow ended up getting to the road along this very nice little creek.
We ended up making camp along the creek. There was a formation of massive boulders nearby, with some small caverns underneath. They were neat, but entirely too full of spiders for my taste.
Since we didn't know where we were, I determined to do a bit of road walking and figure it out. It was a pretty fair walk, and I very nearly turned around one road corner before finding it, but I did hit the Gladie visitor center. Of course at that time of day, it was closed, so I could not buy a map. Fortunately there was a kiosk in the parking lot with a map, so I took a picture of it with my digital camera so we had some kind of reference for navigation. It wasn't hard to figure out where we were camped, now the question was where to go from there. That was something to be figured out later.
For some reason the guys decided they wanted to cowboy camp that night, using a cheapo tarp as a ground sheet then using tent flies to "protect" us from any drizzle/rain that fell. Between intermittent drizzle and the high humidity, it made for an incredibly soggy night. It did not entirely soak my sleeping bag, but it got more wet than I'd really prefer to get it. Fortunately my sleeping bag at the time was synthetic, so it didn't bother it much.
My memory of the next day's route isn't super good (blocked it out due to bad memories, maybe?) but far as I can recall, we road walked toward Chimney Top Creek, intending to base camp along said creek for a couple nights. That was handy as we walked past the visitor's center and I made sure to stop and buy a map. It wasn't absolutely necessary at this point, but I hoped it would make figuring out the rest of the trip at least a little easier.
We made what turned out to be a pleasant camp near the confluence of Chimney Top creek and the Red River. Bet this spot is hectic in the busy season, but we saw very few people in mid March. To take up the rest of the day, we attempted an off-trail route up to Chimney Top Rock. One of the group was... an enthusiastic climber of sorts, and pretty well ran up the climbs ahead of us. But our first stop was a massive and amazing cavern.
There was a tiny thread of a waterfall that poured down off the overhang. It doesn't show up at all in my poor pic, but it was really cool. Sadly, the cavern (probably would be called an alcove were it on the Colorado Plateau) was filled with garbage, much of it obviously thrown down from above.
The climb up wasn't terribly spicy, but was a fair challenge. I was glad somebody much more ambitious and committed than myself was scouting.
We made it to the top, and the view was nice. The journey was more worthwhile than the view at the end, to me, though it was by no means a terrible view.
Not far away from the Chimney Top overlook, we found this outcrop that was obviously used for repelling frequently.
On the fourth (I think) day, we finally saw a bit of blue sky and sun. Some of the trees in this area reminded me of trees in the "Knights who say NI" scene from Monty Python and the Holy Grail. Feel free to judge me for looking at the trees in that scene of the movie closely enough to remember them.
We used the relatively good weather to dry out soggy gear.
A couple of the guys decided that since it was a "warm" day, they would swim across the Red River. It was a very good thing we had a sizeable fire going back at camp, as after getting across they ran straight to it to warm back up.
Chimney Top Creek near camp. Really liked this tree.
We had a nice, warming fire for much of the time we spent at this campsite. Very nice to sit around in the evenings.
The last day, we hiked along the Rough Trail (I believe), crossed the road to Chimney Top, then ended up at the main road.
Somewhere along the trail
There were some tiny fish in one of the creeks along the way. Not sure what they were, but was able to get a picture.
We stopped hiking when we got to the main paved road though the Red River Gorge area. Two of the guys volunteered to hike to the cars and drive them back to where we were (since it was all road walking, not all of us were too enthused about it).
The area was pretty neat, but I think a severe lack of planning meant we didn't really get to see a whole lot. It was OK to have some time to wander off trail and find cool caverns and do a little climbing around Chimney Top, but it really would have been nice to at least be familiar with the trails (AND HAVE A MAP) starting off, so we could have covered ground much better.
Also, for backpacking, the Red River Gorge area itself is quite small, and once we got hold of a map and really figured that out, it made it tough to really figure out much to do.
It was nice to see something so completely different than what I'm used to, but thinking back I always wonder how much better this trip could have been. In the end, it did teach me a lot of lessons, so that was good, but it was a lot of learning things the hard way (especially in choosing/judging packpacking partners).
Still a better spring break than going to a beach full of drunken "normal" college students!