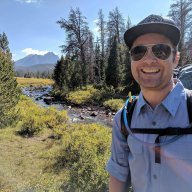 Joined

Feb 22, 2018
Messages

23
It's been a few months since I did this trip, but figured I would write up a trip report since I found lots of good info on the forum and recently joined.
For the trip my sister, her friend, and my brother-in-law came along. This was a new experience for me as most of my trips I am going solo.
Sept 1 (Day 1)
We all met at my place in Farmington. I was hoping to leave around 6am, but I had to do a deep dive into my sisters friends pack and eliminate a bunch of unnecessary things she was thinking of bringing along. I found out that morning this was to be her first backpacking trip. We then drove out to the China Meadows area for our start. It took a while to get everyone together and going, which I found would be a theme in this trip.
After arriving at the trailhead we got all suited up and took off. My ugly mug is the one attached to the blue shirt.
It was a pretty pleasant hike and everyone was handling their packs well, which was nice because I was a little worried at the start. The views of Red Castle did not disappoint and the ladies demanded taking pictures of our approach for what seemed like every 15 minutes.
Just as we were coming up to lower Red Castle Lake we were passed by some horse riders. There was a scary situation as one of the horses fell with a child on it while crossing a foot bridge. Luckily, it appeared that she was only shaken up and thankfully escaped any serious injury. We arrived at lower Red Castle Lake and I was feeling good up for some exploration, bu the group was pretty tired so we decided to just set up camp. This was a bit of the chore because my sister and her friend needed a lot of help with everything. Right after getting camp all set up, we were treated with a couple moose visitors. We made sure to keep our distance. For some reason they seemed pretty interested in us and another group nearby. We would actually see quite a few moose on this trip.
Sept 2 (Day 2)
Day 2 would take us from lower Red Castle Lake to just below Kings Peak. The start of day 2 was great. We ran into a herd of mountain goats which was a real treat. Unfortunately, I didn't think to take any pictures. We made it to Smiths Fork Pass Lake and stopped for lunch. I wasn't too happy about the stopping location due to the complete lack of shade, but everyone else was ready for a break. We all decided to take a dip in the lake to cool off which was refreshing. I thought I had a picture of us jumping in but I can't find it.
After lunch we started heading up Smith's Fork Pass. I was feeling good to get going at this point but the group was dragging. We made our way up slowly and were eventually treated to some great views and a random skull at the top.
After coming down the pass, we decided to take a small cross country detour to cut off some extra walking. We also took some mandatory pictures. I'm pretty sure that's Kings Peak in the background.
By this point the ladies were wearing out, but I kept us pushing until we got right below the pass leading up to King's Peak (the name of the pass escapes me). We set up camp and had a relaxing evening, except for the whining from my sister saying there was no way she was making it that pass in the morning. This was her first backpacking trip as well!
Sept 3 (Day 3)
I was hoping to get an early start making it up to King's Peak, but it was just not in the cards. Even with a good tent shaking, it took a while to get the ladies up out of bed. Hiking up the pass, we were once again treated with some great views.
My sister basically complained all the way up to the saddle. Gotta love family! She made it though! Once there we dropped packs. Three of us head up to Kings Peak while my sister stayed at the saddle and rested.
It took us longer to get there than I thought and we started seeing a lot more people at this point. Up until the peak, we had only seen the one group at lower red castle. My sister's friend Heather really wanted a picture on the edge. I told her if she fell off I wasn't going down the pass to get her.
You can see her with her hands in the air.
Eventually we met up with my sister, grabbed our packs, and started heading down toward Gunsight Pass. Most the group was losing steam at this point, so we stopped halfway to Gunsight Pass for lunch and a much needed break. Refueled, we headed up and over Gunsight. We lost a lot of elevation that we had to gain back and I noticed other groups staying higher up on their way back from King's Peak. I was wishing we had done the same as we made our way up the pass.
We made our way down the pass and over to Henry Forks Lake. That was an interesting section because we lost the trail for a while, but we ran into some more moose so that was a treat. Eventually we made it to the lake and crashed and I was able to get a little fishing in. I think the group was a little skeptically that we would actually find the lake.
Sept 4 (Day 4)
Our last day started off great. Not too much elevation gain and some more great views.
However, the second half was pretty rough. My sister, developed some pretty bad blisters. We patched her up with some leukotape, but she basically had to tough it out and hobble out the last 2 miles. She was a rock star and was in a lot of pain.
Overall, it was a successful trip. The last day soured it for my sister unfortunately, but she did say she would be up for a shorter trip in the future. It was a lot more work than my solo trips since I was helping everyone cook and with camp setup and take down, but they all pretty much had the hang of it by the end of the trip.
Last edited: