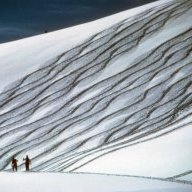 Joined

Oct 17, 2012
Messages

367
This place looks very cool to visit. Essentially the north rim with none of the NP rules. It appears to be pretty close to HRV rd, the place we will be visiting for about 5-7 days. Access is just south of Jacob lake where the North Rim access is usually closed until May 15. Are these forest service roads available to use prior to the official opening of the North Rim? Snow permitting?? 5 different points to camp on look amazing. Might just do a night and a day to see what is here. Anybody visited this area? Any opinions?
http://www.utahmountainbiking.com/trails/maps/RainbowRim-PrintMap.jpg
This place looks like it was created for riding a mt bike although we weren't planning on mt bikes this trip. It's now on my radar, to maybe do this on another trip with bikes, along with Gooseberry Mesa and the southwest corner of Utah. Dang!!! So many places to visit. Might have to add Parunweap and Canaan mt for the next trip too.