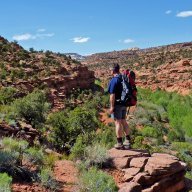 Alien from over the pond...
.
Joined

Sep 5, 2012
Messages

884
After seven years and approx. 150 miles my 5.10 Canyoneer 1 died during my last trip in Utah. The outsoles was loose at many places. And a lot of the profile was gone.

I've ordered a new pair of 5.10 Canyoneer 3. These shoes do not really satisfy me.
They have a lower and wider shaft than the canyoneer 1 have. That means no ankle support and no protection of sand or sediment what my old ones have. The rubber welded on the yellow mesh is very thin. Made in China and not in USA like my the first ones was.

I've my eye on Adidas Terrex Hydro Lace 2019. Who has experience with these shoes or elder models?

Thanks in advance.