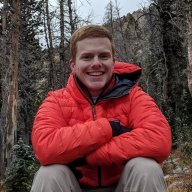 Joined

May 31, 2015
Messages

3,041
June 26, 2022
We've been doing day hikes and trails runs once or twice a week for the past little bit and I thought I'd share the most recent one. This was a little 6 mile loop a bit under an hour from us in the far northern end of the Absarokas. Great lower elevation hike for early summer. We had considered doing it a week ago, but the majority of this section of the forest was closed at that time due to the recent flooding of the Yellowstone River and its tributaries. It fortunately reopened a few days later.
Trailhead at 9 a.m. wasn't too busy. Maybe 5 or 6 more cars had shown up by the time we were finishing.
The first half of the route is down in the bottom of the canyon, heavily forested and shaded. It cool and wet down in there. I didn't get any photos. There was a multiple months old moose carcass a ways up the trail with warning signs posted nearby about related grizzly activity. The warnings were from early April, so we weren't too concerned. The carcass was only 10 or so feet off the trail.
We had to cross a couple creeks, one where we had to get our feet wet due to lack of options for dry crossing given the water levels.
Around halfway, the trail climbs out of the canyon bottom and up onto the south-facing hillside. The views opened up and there were lots of wildflowers all along the way.
Starting up out of the canyon.
Walter likes to jump in every body of water he can. He also really likes doing the "between" command, as here.
Some type of aster, I think.
Fuzzytongue penstemon
Blurry one of Lewis flax
Arrowleaf balsamroot?
Pretty boy.
Yellow goatsbeard. Not native.
I still am not sure about this one.
There were also some Indian paintbrush, larkspur, lupine, western blue clematis, bluebells, and more I'm forgetting.
Views opening out into Paradise Valley.
Great half day trip for some scenery and wildflowers!