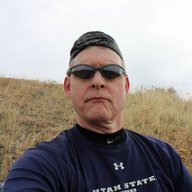 Joined

Dec 23, 2013
Messages

3,159
Sorry, but I'm going to be kind of long winded for a bit. I just can't help myself you see.
I spent last weekend in Portland, Oregon to attend my daughter's graduation ceremony from Lewis and Clark College. Katie has been my sidekick on numerous backpacking trips, and my weekend hikes over the years, and has shown up in many trip reports on this site over that time. Here is a time sequence leading up to her big day last Saturday.
Uintas at almost four
Grizzly Lake Trip at five
Ribbon Lake Trip at six - picture taken at Clear Lake
Rescue Creek Trip at six, a couple months from seven
Great Smoky Mountain action at seven
Shoshone Lake Canoe Trip at eight
Back to the Smokies at nine
Mount Aire at nine
More Uintas at nine
Grandeur Peak at ten
Chain of Lakes in Yellowstone at ten
The Avenues Twin Peaks at eleven
First family member to the top of the beacon on Mount Wire
Mount Van Cott
Jack's Mountain
Stirred up a rattlesnake on this one
Checking out an AT Shelter in the Smokies
Back to Grandeur
She stirred up another rattler on this one
Mount Holmes Trip in Yellowstone
The old Cougar Creek Trail on the Mount Holmes Trip
Trilobite Lake
Bushwhacking across the Millcreek Ridge at twelve
Rubik's Cube?
Trying her luck on a climbing wall in Jackson, WY
Seven Mile Hole in Yellowstone
Sunset Peak
First hike up Mount Olympus at thirteen
Summit shot
Bushwhacking up Thayne's Peak
Heading back from Queen's Laundry in Yellowstone
Enjoying time with her brother at the Bear Pit at Old Faithful
Failed Avenues Twin Peaks attempt at fourteen
Red Butte Ridge
Black Mountain
Frary Peak
Second summit of Mount Olympus
Back in the Smokies, checking out a wild boar trap
Seeing the light at the end of the tunnel.
Sentinel Creek in Yellowstone on our Lower Geyser Basin Trip
Began keeping a journal while bakcpacking
Nasty Bushwhack to Buffalo Meadows on the same trip
At Buffalo Meadows
More Uintas fun at fifteen
Hmm ...........................
Broads Fork Twin Peaks attempt
First attempt at the north summit of Mount Olympus
Enjoying the summit view
Scrambling on our way back down
Grandeur in the winter
Olympus in the winter - first for her
One of my favorite shots - bushwhacking out of Red Butte Canyon on our attempt to reach Lookout Peak
Dragon's Tail route up Grandeur
Scramble up Mount Raymond
View from summit of Mount Raymond, looking towards Goblers Knob
Posing with a bison on our DeLacy Lakes Trip in Yellowstone
At DeLacy Lakes
At Mallard Lake on the same trip
Hmm...................
Deseret Peak at sixteen
Castle Rock attempt on Stansbury Island
Black Mountain hike
Another summit of Mount Olympus
Broads Fork Twin Peaks attempt
Winter Grandeur at seventeen
Dale Peak hike
Summit of Dale
Sunset Peak hike
Summit of Sunset
Canoe trip around Yellowstone Lake
Best seat in the house!
The Mary Mountain Trail in Yellowstone
Mount Raymond at eighteen
Broads Fork Twin Peaks, the Robinson's Variation
Mount Nebo hike
COVID times as she turned nineteen on our Pebble Creek backpacking trip in Yellowstone
On Wolverine Peak on Pebble Creek trip
Crossing Pebble Creek
View from Bliss Pass out over the Pebble Creek Drainage
Church Fork Peak
North Summit of Mount Olympus again
Lone Peak hike
Pfeifferhorn at twenty
A nasty cold day on Avenue's Twin Peaks over X-mas break at twenty one
Mount Van Cott over Christmas break
Snuggling with Juniper
So there you have it. I'd be lying if I didn't say that I didn't shed a tear when she crossed that stage at her graduation ceremony after receiving he diploma.
Congratulations Katie! I hope you take your love of wilderness and nature into your adult life. I've enjoyed every minute of all our adventures, and good luck to you on all your future endeavors.