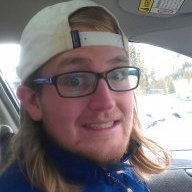 {insert witty remark here}
Joined

Jan 22, 2012
Messages

151
I know that I'm not very good at writing TR's and I feel really guilty. I'm not even that good at keeping up on here in genral. But I feel like I owe a few TR's so when I'm trying *not* to study I'll try to catch up.
I got invited on a last min trip to hit some canyons. I was originally going to be out climbing but those plans were iffy so when this came ringing I was all over it. We left early on the 9th and met up at stans and enjoyed some good burger eats. We hit our first canyon - Slideanide later that day. My memory of it isn't the greatest for some reason but I'm pretty sure we rappelled once - the canyon entrance that we did in one rap (though some have set it up for two) then just did a ton of down climbing. by far the most out of the 3 canyons we hit. the beta on climb-utah says there's a 150 foot exit rap but I swear there wasn't one, unless we down climbed it which is very possible.
We camped out that night, had a nice little fire to hang out around, slept under the stars in beautiful weather. Got up mid/late morning and strung out for Constrychnine. This was an amazingly fun canyon. There were more raps in this one than the other two combined if I recall right. I consider my group solid down climbers so take that as you will. the first rap according to the beta is 120 feet but it felt significantly shorter to me (but I'm paltry at judging distance). The second rap is amazingly fun and smooth for a big one, 190 feet and very straightforward. its not dead manned right now like climb-utah states but wrapped around some rocks to the side of the rap. we would have needed some solid webbing to make a deadman so I'm glad we didn't have to do one. after some fun down climbing we hit a 80ish foot rap down a crack into a dark corner of the canyon. This was my favorite one of the whole trip because it was just so pretty and great for pictures. we hung out down here for a while and then continued our slog out. This canyon, forgot to mention has the longest approach and the longest exit (though basically the same as slide). there is a lot of sand slogging after hitting these canyons, but the good news is while following the wash towards arscenic its really pretty and there is plenty of greenery to keep you occupied. on the exit out while climbing pas arscenic we hung out at the arch for a while and got some great pictures (great place to rest since is roughly 1/2 way through with the long exits).
we weren't done with the day though, we made it back to camp at the trailhead mid afternoon, ate lunch and restocked our gear to hit arscenic. the approach was an easy 15 minute jaunt. the canyon was the easiest by far but no lacking in fun. we took our 200 foot rope set up our anchor at the first drop and did all 3 raps in one stage and left our rope there and did the canyon with out them. lots of fun but easy downclimbing. this would be a good canyon for a beginner I think. We exited the canyon just before dark and by the time we were back at camp around 8 it was dark out. This is when things veered from our plans. We had been planning on going to hit middle lep the next day before heading home..
some of us decided to head to hanksville to get some snacks and some ductape since the canyons tore up our pants more than expected and weren't fully prepared for that. supposed to be an easy hour detour. unfortunately the driver put a hole in his oil can right as we got to the highway. being late and desparate we hitched on with this random truck headed the opposite way from hanksville (towards bull frog). One in the group said the town down that way was a boat shop basically so if any place could help us, that town could. unfortunately the people we hitched with us forgot to turn off and kept following past sandthrax and eventually to hite. That's when we turned around and asked to be taken back to our car. We decided it was just best to hike back to camp and figure things out in morning. So at 10:30pm we started our 6 or 7 mile slog back to camp...on top of two full canyons. We got back around 12:30 and stayed up around the fire till around 2 chatting.
the other car drove back to town to figure out what to do while me and two others went to hit arscenic again since we had nothing better to do. We went fastishand light (1 pack) and I think we did the whole loop in about 3 hours. but that includes me teaching them how to lock off, some knots, blocks and other canyon essentials at the top since this trip was their first time hitting canyons they didn't know how to do these.
I got home late that night and celebrated a great fall break with a bowl of popcorn and my favorite book. The good news is the car with the broken oil plan got his car home that night. towed by AAA to green river and then patched it with proxy or something like that.
I took my go pro but new to it so I need to figure out how to sort through the tons of video and edit them into something worth watching haha.
pictures:
Canyoneering Poison Springs
by
Gareth Loosle
, on Flickr
this was my favorite rap in Constrychnine and also my favorite picture from my weekend.
Canyoneering Poison Springs
by
Gareth Loosle
, on Flickr
Canyoneering Poison Springs
by
Gareth Loosle
, on Flickr
arscenic arch!
Canyoneering Poison Springs
by
Gareth Loosle
, on Flickr
Canyoneering Poison Springs
by
Gareth Loosle
, on Flickr
the 190 footer. doesn't look like much but it was fun
Canyoneering Poison Springs
by
Gareth Loosle
, on Flickr
Canyoneering Poison Springs
by
Gareth Loosle
, on Flickr
and some night stuff. haven't processed my trails yet though. way behind on those...
Featured image for home page: