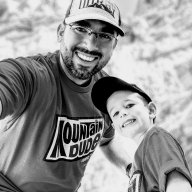 Life Elevated - Rising Higher
Joined

Feb 25, 2013
Messages

600
What happens when you gather 8 people to do 3 canyons in one day?
POISON FEST!
As I think about this trip I am amazed. This group consisted of 8 people. 3 of whom I have never met before. 1 who came from out of state and even one who came from out of the country! Brett drove 8+ hours from New Mexico, and Joel came all the way from Canada! The rest of us were local Utahn's.
This was a quality group of canyoneers. We had a few who were new to the sport, but we also had 5 of the 8 who have been professionally trained in canyoneering; so when we began our adventure in the canyons, it was no surprise to me how efficiently the large group moved through the slots.
The canyons we visited were: (TR's Comming soon)
Constrichnine
Slideanide
Arsenic
Each was a lot of fun and very beautiful! Constrichnine has some really good rappels and chambers. Slideanide was a blast! The big elevators in that canyon are so fun. Arsenic has a wonderful 3 stage rappel start, and some pretty narrows to finish it off.
Featured image for home page: