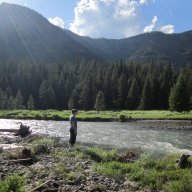 Joined

Feb 27, 2021
Messages

14
This is a two night Point Reyes, CA backpack into Coast Camp along the Laguna trail and then back out along the Coast trail. Had two cancellations for this trip last spring due to lock down and this trip almost seemed doomed as well, with a supposed bad storm brewing for the last weekend of April during our trip and the road to get to the trail head being semi closed. We assumed there would be fewer people so just went for it. Good idea, as the camp only had 3 other sites occupied. My understanding is that reservations are usually filled fast.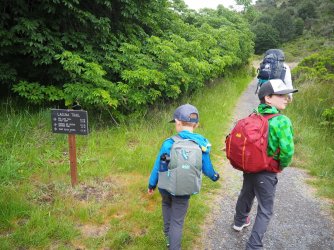 This is the first official overnight backpack that we have taken our kids on (5 and 7). They were troopers the whole time packing in their own cloths and water. I thought this would be a good trip for them with low mileage and elevation. Coast Camp was also the first place I backpacked overnight with my dad at age 5. It was a lot more free for all at that time in the 80's, as far has campsites went. People just had tents up anywhere as I recall.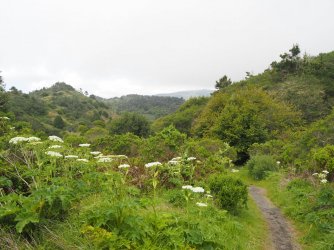 We hit the perfect timing for the flower bloom, shrubs and small trees were also lit up with color along the trail. View at the top of the first ridge. From here the overcast and drizzly weather started to dissipate rather quickly to clear skies. Personally, I was kind of disappointed, as I prefer the ocean when it is overcast and or foggy. It just seems more alive.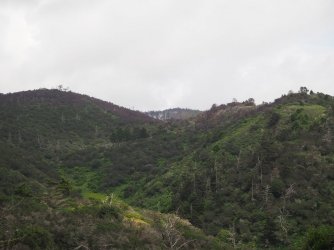 Looking south you can just see the edge of the fire burn from the unfortunate Woodward fire that happened just last year. Many of the trails are still off limits as of this writing. Be sure to check the Point Reyes NPS page, they have a lot of updates on there.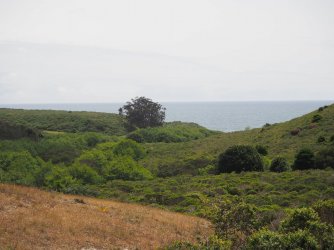 This eucalyptus tree is massive and sits just at the edge of Coast Camp before heading down to the beach. I do not remember this tree as a kid.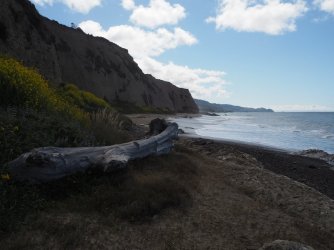 View down toward Sculptured Beach. The wild flower bloom was just intense, yellows, purples, and blues.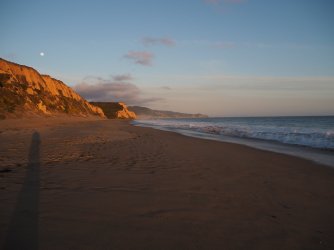 The evening views along Santa Maria Beach were excellent. The wind was rather intense at times during this trip, which seems to add to the exposure level. The coolness of spring certainly took the edge off of the sun though.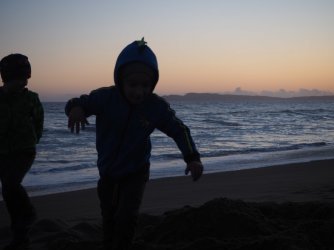 My kids certainty had an excellent time, they don't need much to be super excited about things like this. I would recommend this location as an option for a first backpack with young kids. The campsites offer tables and food lockers. There is a communal bathroom and several freshwater spouts. The beach is just really entertaining, relaxing, and for me, offers a much needed juxtaposition to any sierra backpacking I might typically do. Just can't believe it took me 35 years to come back out here. I also put together a short video with more views for those interested:
Coast Camp 2021 short video