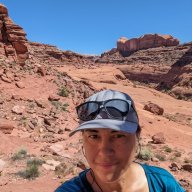 Joined

Jan 11, 2018
Messages

753
Since I was in Bishop on Sunday for a friend's bday party I took Monday off to take my fur niece, Pika, on a hike. I hadn't been up to Granite Park in a few years, so I took advantage of the cooler fall temps and foliage for a reunion.
Route
(out/back)
Logistics
Start/end:
Pine Creek trailhead
Mileage:
~17 miles
Elevation gain:
~4500'
Navigation:
paper map is fine; junctions signed
Filterable water:
many creeks and lakes
Backcountry permits (overnight trips):
White Mt Ranger Station in Bishop
Bathrooms:
outhouses at the Pine Creek climbing area before the trailhead
Dogs:
allowed
Nearest town/gas:
Bishop, CA
Report
I left the trailhead ~7:45am while the long Pine Creek switchbacks were in the shade. The trail heads up an
old tungsten mining road
before entering wilderness. There are still remnants of the old cable tramway system, old shafts and mining buildings.
The surrounding cliffs were bathed in morning light, which helped to distract from the slog up the old road.
The first of many lakes is Pine Lake and it's the only place I encountered people in the wilderness zone.
I was surprised at the amount of water remaining into September and the plentiful trout. At 6.5 miles the trail splits and I took the path around Honeymoon Lake toward Granite Park.
The craggy granite peaks and domes perfectly framed the fall and evergreen foliage.
Above Honeymoon Lake the trees begin to diminish as you enter Granite Park. I always forget just how incredible the landscape is in this area.
About a mile from Italy Pass I decided to head back.
The views were just as spectacular on the return as they were on the way up.
As always Pika proved to be an optimal trail companion and photo model.
Back at Pine Lake I heard but did not see a small group of people.
Finally I started the long switchback descent to the parking lot, then to Mt Rambler for dinner with friends. After several decades of exploration I have yet to tire of the Sierra.