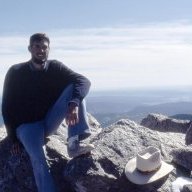 Joined

Feb 1, 2014
Messages

412
My wife has been wanting, for a long time, for us to take a trip to Michigan's Upper Peninsula. And for a long time I've been resisting this. Having grown up in the desert it's just been hard to get excited about a trip to a landscape covered with trees where everyday there is a possibility of rain. But I finally relented and off we went. It turned out to be a lot more interesting than I expected. The highlight of the trip was a visit to the "Pictured Rocks National Seashore". We were seeing this on the map and picked up some brochures in a motel and decided on a lark to sign up for a sunset cruise. Pictured Rocks is run by the National Park service. Although its not a National Park, it feels like one. Pictured Rocks runs for 40 miles along the south shore of Lake Superior between Munising and Grand Marais Michigan. It extends about 5 miles inland along the 40 mile length. There are hiking trails running the length of the coast and we saw several hikers. If you go hiking be prepared for bugs - biting flies by day and mosquitoes by night. A head net would be a good idea after sundown. A person could also make a trip by kayak or canoe and we saw a number of people doing this. A person would need to be careful to keep an eye on the weather going on the water. It may be one of the most dangerous coastlines in the world. There have been about 350 ship wrecks in storms since 1800 near this coast in the 70 miles between Munising and White Fish Bay.
The western half of Pictured Rocks consists of sandstone cliffs. The eastern half consists of dunes and we did not visit that half.
The pinnacle on the point in the foreground is called "Miner's Castle".
The mineral stains on the sand stone cliffs for which Pictured Rocks is named are due to ground water containing dissolved minerals seeping through the surface of the rock leaving the dissolved minerals behind. Most of the stains are quite large. Some of it looks a little like a Jackson Pollock painting.
The colors are amazing and quite varied.
Wave action against the soft rock has excavated caves, arches, and pinnacles along the coast line.