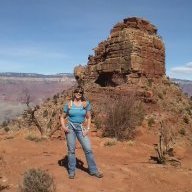 Joined

Oct 1, 2012
Messages

957
So I take off for my long anticipated photography trip to Arizona and Utah. I was going to shoot the meteor shower, and kept adding stops along the way. By the time the trip got here I had planned to visit 5 locations in 8 days-first mistake! I had also planned to camp at the North Rim of the Grand Canyon and Goblin Valley-sounds awesome for meteors, right? Maybe someone found out, I didn't!
As I left my car was acting up-the engine light came on the day before the trip. I already knew a head gasket was leaking oil into cylinder 3 (of 6) but my mechanic said not to worry about it. It also had almost 300,000 miles on the odometer, a slow radiator leak, and a slow oil leak separate from the head gasket leak. Just what I needed! Nothing I can do at this point but carry water, oil, and cross my fingers. I feel like a cowboy who's realizing his best horse can't work anymore. This will be the 12th road trip to Utah I've taken in this car, and probably the last, unfortunately. Also the forecast is looking terrible, boring blue skies EVERY day! I was hoping for thunderstorms so I could try out my lightning trigger.
After a night at the Vermillion Cliffs I get to the Grand Canyon and set up my camp. I do the usual scouting of locations and decide to try sunset at Cape Royal. There were two fires on each rim so the canyon was hazy during the day but the sky really lit up for sunset:
Those are the real colors!! No saturation at all.
The next morning I went to Point Imperial for sunrise. No disappointments here either!
I spend the day exploring trails, hiking around and reading "Beyond The Hundredth Meridian" on ashergrey's recommendation. That book is awesome, really enhanced my whole trip knowing the history of the area around me. I have to admit I am a camping wimp, though. I didn't sleep well on the tiny pad, flat on the ground, and was getting sick of camp food. Two more nights of camping to go. I'm awakened the next morning at 2:00 am because I am so damn uncomfortable. As I'm trying to get back to sleep I think I see a flash of light, but no thunder so I try to go back to sleep. There it is again, this time unmistakeable. I look out my tent and see the horizon light up from the direction of Point Imperial. Which I can get to in 15 minutes. I drag my @$$ out of the tent and hightail it to the Point. As I drive the sky keeps flashing in front of me. I've never shot lightning so I'm not sure what to do when I get there. I have the Lightning Trigger, sure hope I brought the directions...
I get to Point Imperial in pitch black night. I'm nervous, wondering if I'm in danger of being struck by lightning so I'm crouching down but no worry, there is the lightning, across the canyon on the plateau. I set up the Trigger but it's hit and miss-it gets triggered by flashes out of the frame but not always by flashes right in front of it. I check my shots and they are all black-in my excitement and nervousness I left the lens cap on! The exposure is tough because there's no moon. As dawn starts to arrive the horizon lights up, and the storm intensifies-there are multiple strikes each time! I realize the best way to shoot is to just do a long exposure (15 seconds) over and over and hope for lightning. I'm not disappointed:
Just as dawn arrives:
I'm supposed to drive to Goblin Valley from here, but it's a 7 hour drive and I've been up since 2:00 am. And I just can't face camping anymore. The goblins will have to go on without me as I decide to go to Capitol Reef and try for a hotel room. I get there just as I can barely keep my eyes open and check into the Best Western. I don't know why they'd let me stay as I'm disheveled, blood shot eyes, and look like I live out of my car, but they do. That night I sleep in a soft bed and eat at the Diablo Cafe-the best food for miles!
The next day I take pixie's recommendation and hike the Cohab Trail and Frying Pan trail-totally awesome trails! I also set up my shot for the meteor showers early the next morning. I get up at 3:45 a.m., drive to Chimney Rock (which according to the Photographer's Ephemeris is perfectly oriented) and set up my stuff, but my spotlight dies within 5 minutes. There's no moon so light painting is essential but all I've got is my headlamp. Gotta make due! But where the hell are the meteors, supposed to be shooting overhead at 80/hour? I see about 1 every 20 minutes, all outside my frame. My shots are all woefully underexposed as well. The whole night is a bust. I got up at 3:45 a.m. for this?
There's the meteor, sneaking into the frame on the left.
I decide to wait for sunrise-what the hell, I'm up anyway! I hike up to the top of the Cohab Trail and watch the light creep over the landscape:
I'm really frustrated over the Chimney Rock shots. The Milky Way is perfectly placed too so it kills me that this got all screwed up Since the moon is just right for night shots in the evening I decide to try again. I set up my camera in the evening, then wait for the endless Utah twilight to fade. As the hour drags on clouds build, and just when I need about 15 more minutes for darkness the whole sky is enveloped by clouds. That's all I can take, there's no way I'm getting up at 3:45 a.m. again!
The next day I try to do justice to Capitol Reef but I just can't. I'm tired, demoralized, and not feeling very creative. Every time I tried to get to the dramatic light I was in the wrong place. But I do get a few shots that I hope show the rugged beauty of the place:
And now it's time to drive back. I'd planned on staying in Springdale, doing the Narrows in the morning, staying in Vegas, then driving back to San Diego. But at this point I am beyond exhausted. I forgot to schedule rest days! My new rule is a minimum of 3 days in each place so I can get to know the landscape, scout compositions, observe the light. And not wear myself out! I drive to Springdale and then straight to San Diego the next day.
Oh yes, my car ran like a champion the whole trip. Ate up the miles like it was nothing! I swear, that car enjoys road trips as much as I do. It climbed the Smithsonian Butte Highway like it was nothing. Mileage at the end of this trip was 302,670, and I bought it new. That's a lot of time spent in a car. I gotta hang onto it a little longer.
Featured image for home page: