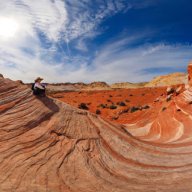 Joined

Aug 18, 2018
Messages

1,550
The hummingbirds are in a complete frenzy here, the Monarch eggs are visible on milkweed in our backyard and the nights are getting cooler. All clear signs that we are approaching the end of summer. That also means less bugs in the Adirondack and many thanks to
@kwc
, who reported about that
here
. So Friday morning we drove to the Pharaoh Lake Wilderness for a much needed Vitamin W resupply and it was a gorgeous day:
This year we decided to put the Jeep to work on the final piece of access road requiring HC & 4WD. It didn't seem to go much faster than hiking due to many big rocks, wet muddy areas, one 4WD section. We helped a lost backpacker with some location questions on the way in. We parked the Jeep and I waited for the swarm of deer flies to surround us. None! A few mosquitoes, but that was ok, so we sprayed the pants with permethrin (against ticks) & applied Deet on the shirts. No fall colors,
like the last time
, but nevertheless still beautiful! This is the "Mill Brook" swampy area:
Further in, a few people were relaxing at a campsite located on the bank above the swampy Pharaoh Lake Brook. We loved the reflections of the trees:
We eventually reached Pharaoh lake and continued through the wilderness along the shore. Nice to see all the green and the forest fragrance was amazing:
We stopped many times for views over the lake. Nice!
A bit further we saw a couple setting up camp, they previously passed us quick when Rick was taking photos of the swampy area. And
@Miya
will be thrilled to hear we greeted them, chatted for a bit and they shared some awesome helpful "area info". Again, we could just have passed them without a word and we would never have known, what we now know..... Just like last fall in Escalante where we met a couple along the Escalate River and later had a fun and memorable evening together.
Further on we saw beautiful water lilies in full bloom:
There was a refreshing breeze along the shore and it was very comfortable. A few puffy clouds were hanging above the lake:
Many rock formations in the middle of the lake:
Eventually the trail diverted off the shore, the wind disappeared and our comfort level decreased.
It suddenly felt much warmer and it got more buggy.
But the views were fabulous. It's probably hard to see, but there was a red (presumable food) bag hanging from a tree on that peninsula.
Closer up, lots of water lilies:
More reflections....
And how is this as a lunch area? Super quiet, a slight breeze and a perfect view:
That's when it hit me…. we didn't bring a swimsuit, duh….! I grew up close to the sea and I can count on one hand the number of times I ever swam in a lake, so I didn't think about bringing one. It would have been super relaxing and refreshing to swim in the lake, lesson learned. Several campsites were hidden across the lake, so no skinny dipping, though that did cross my mind!
B&W with dramatic clouds over the lake
We continued along the shore and saw more scenic views:
So many down birch trees, everywhere....
There wasn't anything challenging navigation wise, but I love Gaia GPS. Here I noticed, that I failed download the USGS Topo map layer with every trail in the area, I only had Gaia Topo & "US Topo base map" and those maps failed to show the southern approach to the mountain peak and other trails were missing too. Hence the puzzled "what's going on look?".
The trail again diverted more off shore. We passed a camp with several tents and some happy kids. Later we passed a dad and son, they were exhausted from dragging a cart (!) with wood and camp stuff. That's kind of like dragging a cart from the Elephant Hill trailhead up to Chesler Park. Well, maybe not as difficult, but you get the point. And there was so much dead and down wood in this wilderness area, including birch everywhere! He said "I was obviously misinformed"…. We later met more people belonging to that same group on the way out. A few got lucky and took the canoe route up the lake:
In the swampy area we stopped to take photos of the showy Lobelia Cardinalis (Cardinal Flower):
Some cool floating needles in the water
Pharaoh Mountain peak was visible in the distance
The final boardwalk, it looked a bit beat up.
It ended up being 12 miles on a gorgeous day delivering plenty of Vitamin W.
We would usual stop at our friends house, but we were meeting the day after, so we continued home and enjoyed some tasty heirloom tomatoes from the garden!
@Rockskipper
- too bad we don't live closer together, we have plenty to share!