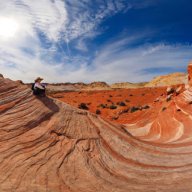 Joined

Aug 18, 2018
Messages

1,562
It is raining now. It's been very cloudy and it's been raining a lot this fall…. but we just had 2 sunny days with 80F! The Monarch butterflies of the Super Generation drank nectar in our yard and migrated further south towards Mexico. We also ventured out and hiked almost 10 miles yesterday in the
Pharaoh Lake Wilderness in the Adirondacks
. We live fairly close by, but we rarely go to the Adirondacks. The loss is ours, at least so it seemed yesterday. Imagine our surprise, when we didn't encounter masses of neither voracious flies nor disease carrying ticks. We encountered the Adirondacks in it's full Fall glory.
The maples trees were showing off their brilliant red, orange and yellow fall foliage in beautiful reflections on still ponds
: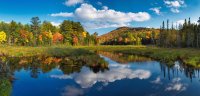 (
@Vegan.Hiker
has previously reported similar photos from a hike in Vermont. All classic North Eastern Fall pictures. A brief but spectacular period).
Stunning tree trunk and colorful leaf reflections at Pharaoh Lake: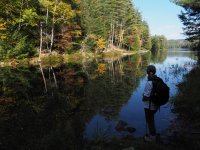 Lots of
physical and chemical defenses
are usually needed in the
Adirondacks
. It is a true skill to protect yourself against hordes of the
vampiric Adirondack Black flies and Deer flies (see here )
. It's a skill I rarely attempt to master. Rick encountered masses of deer flies surrounding the car last summer and I stayed home exactly for that reason. Deer flies will hunt and relentlessly track you down till they get you. They don't ever give up. I once in our yard let a deer fly land on my hand (we have none of those in Viking territory, so I didn't know better) and my hand got badly swollen after a bite….
In Spring and early Summer Black flies spin in masses
around your head and neck and each of them is armed with a little axe. Mosquitoes in masses are truly masses of sweet hearts as compared to the masses of voracious flies. Oh… and I forgot the most important bug issue… every day we try very hard in the Northeast to master the
crucial skill of protecting ourselves from bites of ticks
(sometimes the size of a spec), because ticks can and will transmit Lyme and many other tick born diseases. The best scenario after getting infected is a full recovery after 3 weeks on Doxycycline. That's if you tolerate this antibiotic. If Lyme goes undiagnosed (and it often does), then your life is rarely the same, as friends of ours have experienced. Serious stuff.
Having said all that…. yesterday we experienced a rain free, bug free and stunning fall day in the Adirondacks. So again, imagine our surprise! It was warm, humid and we were sweating in long pants tucked into our socks, all sprayed with permethrin.
Shorts, skirts and kilts @scatman - we don't dare do that in the Adirondacks, that's only a Western or SouthWestern pleasure
! I scrambled a bit yesterday morning to figure out where to hike, because it's difficult to time the peak of the foliage spectacle perfectly, because it changes greatly with altitude, how far North or South you go and what week in October you go, but we were not disappointed.
Views from the boat launch area at Brant Lake, before we even reached the TH (iPhone shot):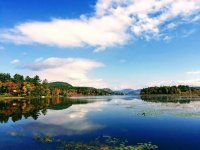 And on the other side of Brant Lake, much closer to the trailhead, pretty peaceful looking. What do you think?

It became apparent already before we arrived at the trailhead, that we hit the peak time for fall foliage.
Look at the blowing leaves in the wind, the colorful Maple Tree foliage and shadows on the road: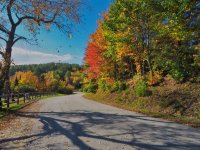 We arrived at the trailhead and tucked the pants inside our socks and sprayed socks and pants with Permethrin. It was warm and muggy....
My iPhone managed to capture
Rick - the photographer- and he was reflected well in one of the many water pools on the trail: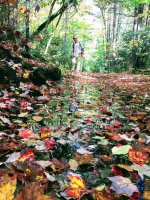 Rick captured more leaves reflected in pools of water, very cool picture with fabulous leaf reflections:
Plenty of fall foliage when we crossed the boardwalk- but first later on the return trip did we capture the stunning reflections in the pond.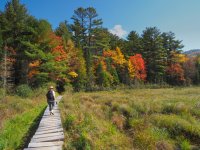 Further on the trail out to Pharaoh Lake Rick captured lots of cool fall stuff: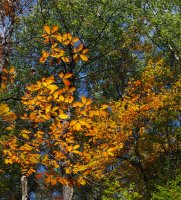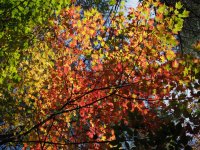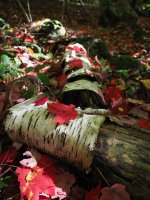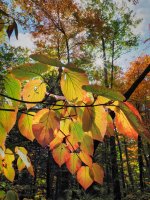 A Panorama of a pond with (I believe) Pharaoh Peak in the middle. We never made it to the peak- too much stuff to photograph: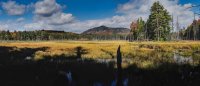 And a closer look, lots of need reflections: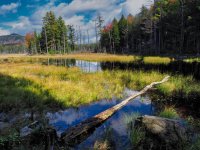 And finally....! Pharaoh Lake, plenty of reflections here. And again NO BUGS, not one !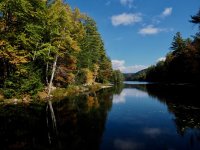 Lots of fall tree foliage, brilliant colors and tree trunks reflected in Pharaoh Lake: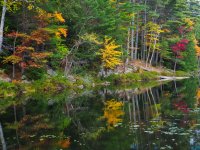 A cute little salamander: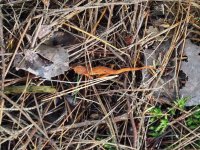 And a little further on the trail, actually a little off trail at the lake shore: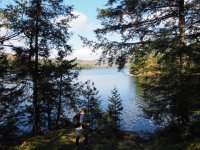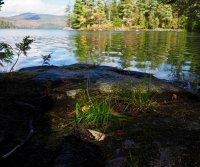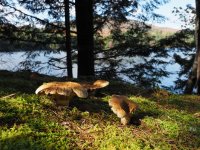 The pictures above were taken right below this Lean-Tos shelter for camping (first come first served basis often). Not a bad place for camping: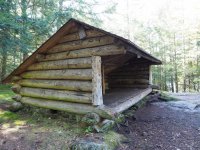 We headed back and it only got better. It reminded us a lot of hiking in the redwoods on the West coast. Trees were not big, but the fragrance was amazing
: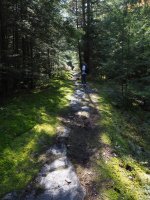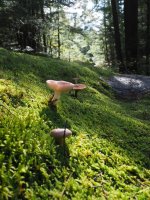 And soon we were back on the bridge enjoying even better reflections. It looked like a postcard and yes.... we are in upstate New York here: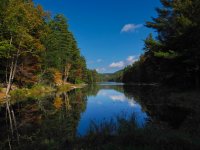 I enjoyed the fabulous view. Stellar reflections of many tree trunks in the water: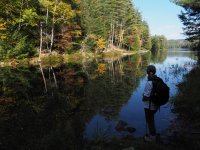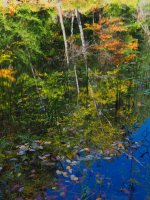 We headed further back: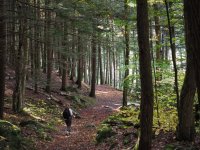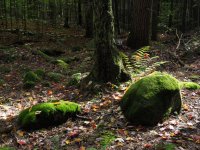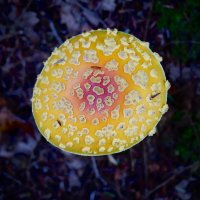 Probably some Beaver dam stuff: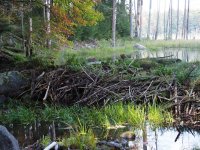 I scared this poor snake, first with my loud steps and then with a very loud scream. I didn't see it at first, but luckily it noticed me. Hm.... not my thing!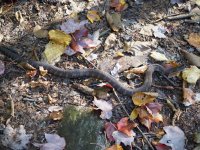 And a bit further I captured some iPhone pictures of Rick- the photographer taking photos of leaves: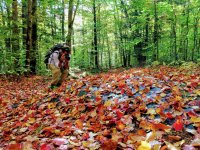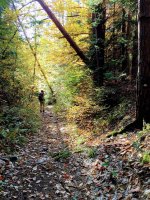 And back at the pond, but now it had some stunning reflections (here is an i-Phone shot of Rick):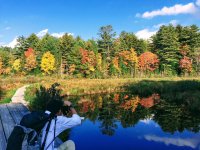 Rick's panorama reduced in size.
Full of reflections of clouds, colorful fall foliage, mountains.... Classic North Eastern Fall glory. Adirondacks, NY.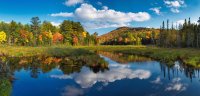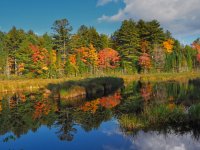 And even the iPhone didn't do too bad in capturing the stunning reflections: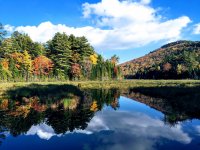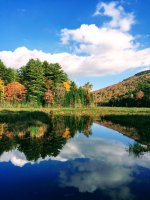 What a day yesterday! We were lucky and surprised with 2 sunny warm days in the middle of all this unusual cloudy and rainy fall weather. We drove back and spent the evening having dinner with close friends. Wonderful. Now it's raining again (!), we lost power earlier and it's back to reality!
@Artemus
- I know you liked the Sedona reflections, but I think these reflections are just as stunning! Is everything ok with you in Italy?