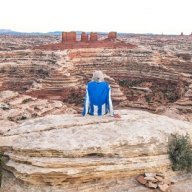 Joined

May 18, 2012
Messages

294
Hi, I'm hoping to find someone or a small group to join me in August to do 1,2, or 3 of the above 1,2, or 3 day hikes, pictured below, to Twin Lakes via Alice Lake in the Sawtooth Wilderness (15 miles round trip or a loop of about 18 if taking in Toxaway Lake), Titcomb Basin via Island Lake (about 29 miles round trip), and Cirque of the Towers (21 mile round trip), both in Wind River range. I know it's a long way off, but I'm coming from the UK and need to think about accommodation dates & would be a bit reluctant to do them alone as although they are not unvisited areas, there won't be many people, they are quite remote and there's a possibility of bears so it's nice to have a group of at least 3 or 4.
(Another reason is that although I have done many multi-day backpacks they've tended to be on routes and trails that are pretty impossible to get lost e.g. following trails/water/canyon courses, so I've never had to properly test my map-reading, navigation or GPS skills too hard. And although I've been in bear country, I've never had to hang as there have been campsite containers)
They seem to arguably be the highlights of the 2 regions & if you google image there are possibly even more beautiful pictures (great trip reports on here of Titcomb), but these I was able to download.
1. Twin Lakes seen here , Sawtooth Wilderness, via Alice Lake. Pettit Lake trailhead. nearest town Sun City
2. TITCOMB BASIN. Pinedale nearest town.
trail goes via ISLAND LAKE
3. CIRQUE OF THE TOWERS hike. Also nearest town Pinedale. I'd probably aim for a day's rest between Titcomb Basin and Cirque of the Towers staying somewhere cheap in Pinedale & spending that day looking around the Tetons, about 70 minutes drive away.
View attachment 38208
This link has more on the Sawtooths
https://www.google.com/maps/@42.6722507,-109.3133922,13.04z?hl=en
View attachment 38208
View attachment 38208