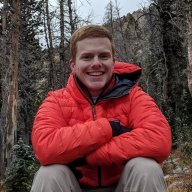 Joined

May 31, 2015
Messages

2,044
I saw someone post on the wildernessbackpacking subreddit, asking if someone could draw out a gpx track for them using a written description from Backpacker with trails and landmarks easily identifiable on a topo map. So many people are lazy, and incapable of routefinding without a GPS. I once ran into a couple in Lee Vining (E of the easternmost entrance to Yosemite) near dusk. They asked me where San Jose was, and I said 5-6 hours in the other direction.

I asked if they knew in which direction the sun set, and they shrugged. They blindly drove east instead of west for hours b/c they didn't have a data connection for their mobile mapping app.
I gave up on r/wildernessbackpacking when they started requiring people to post locations of their photos, along with descriptions. Lots of lazy people on there that want someone to plan their entire trip for them.