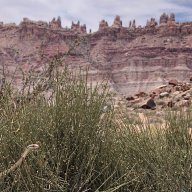 Joined

Apr 18, 2022
Messages

16
Howdy,

I did a packrafting trip at the end of May in Canyonlands and it was an absolute dream! Therefore, this Fall I am planning to return. I have my route down, this time floating the Green, but now I'm sorting through dates. I am in school and work, so I have very few dates that will work. Mid-October and mid/late-November are my options. Mid-October would not be ideal because I would have to miss classes to get the amount of days I truly need to finish the route, but weather-wise I imagine that would be perfect. Mid/late-November I will have 9 days off, so much more ideal and relaxed with timing, but I worry that is too late. I really don't enjoy backpacking with lows below 30, and that seems right about what goes on in late November.

Also curious if Stillwater Canyon is at risk of being too low to float in late Fall.

Any insight from experience in Canyonlands during the Fall is appreciated!

Thanks!