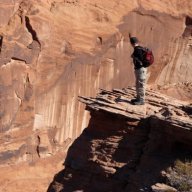 Joined

Jun 16, 2012
Messages

1,485
Putting the finishing touches on the plan and finalizing reservations for a two week packrafting trip in the Brooks Range for this summer. I am beyond stoked. This will include a 5 day float from the headwaters of the Alatna River to the Arrigetch Peaks, where we will then do a five day backpack into the Arrigetch. And finish up with another couple of days on the river to our pickup point. This will officially be my longest continuous trip into the backcountry, so that's fun.

I've got a lot of things to practice between now and then, including getting more experience in the packraft, learning to pack enough food for two weeks, and trying to stay focused on work between now and July!

Has anyone ever been in that area?