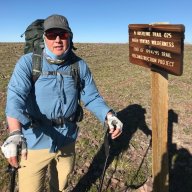 The mountains are calling and I must go
.
Joined

Mar 31, 2013
Messages

1,016
I listen to A LOT of podcasts.
Every week or so I check out the categories I'm interested in to see if there's anything new.
This week I came across Outside Podcast by Outside Magazine. They're doing a season of
The Science of Survival. The first episode was about the physiologic responses to cold.
Interesting and entertaining. You can check it out here -
Outside Podcast
.
The first episode is based on this
article
.
It made me think of this book -
98.6
More often than not survival is about managing your temperature (
and not falling
)
If you're into such things, check out the podcast.
Also, I'd love it if any of you have podcast recommendations.