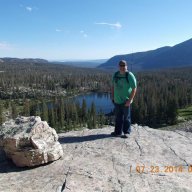 Joined

Jan 21, 2015
Messages

15
I'm looking at a new daypack/overnight pack. I currently use a Camelback Rim Runner which I think is a 22L its to small for me now.( I got it over 10 years ago). I'm looking at the Osprey Kestrel 38 or the Stratos 36. I've read a couple post talking about each one but nothing comparing the two. I'm hoping someone has experience with both, and Could help me out.
I mostly just day hike into lakes to fish nothing to crazy. Maybe down the line I might do a overnight trip or two night trip.
I'm a big feller at 6'2" 300 lbs, and want the pack to fit.
If I missed something let me know. Any help would be appreciated.
http://www.rei.com/product/864677/osprey-stratos-36-pack
http://www.rei.com/product/828433/osprey-kestrel-38-pack
Just found the links for REI hopefully I can find a better price somewhere else. I'm hoping to at least try the packs on if i'm able to find them at a store together.