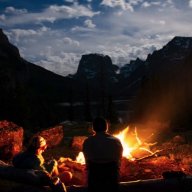 Joined

May 3, 2018
Messages

283
Hello again everyone,
Last weekend my wife and I went over to the Olympic Peninsula during our little January heat wave to enjoy the great weather. Saturday night we camped at the Kalaloch CG along the coast where we had a fun night star gazing. The CG despite the shutdown is still open and functioning but the toilets are closed (we were just overnighting it so it wasn't an issue). The next day we went over to La Push to hike to Third Beach and Strawberry Falls. Followed by watching the sunset at Roosevelt Beach.
Stargazing with a campfire at Kalaloch CG.
Morning light filling the forest near Third Beach, La Push with an almost spring time air. Many super deep breathes were taken. Can't wait for spring! It just didn't quite sound like spring though with the absence of song birds.
Third Beach stream crossing. But before we got to this point we had to negotiate a landslide that ate the trail, thankfully someone roped a slope to make the passing a lot easier. The stream can be avoided by just walking through 1 inch of it as it disperses into the ocean at lowtide, old fashion trudge through it or hopping over driftwood.
PNW driftwood.
Strawberry Falls. Unfortunately lowtide was ~6ft so it wasn't even close to being low enough to get to the falls. iirc it needs to be around ~12ft which is pretty rare near La Push but not unheard of north near Ozette.
Next we headed out to Roosevelt beach to kick it and watch the sunset.
Roosevelt beach and the only people on it.
Sand Cliffs
sunsetting - almost looks like I photoshopped my truck into this shot.
Roosevelt beach is one of many beaches in WA where you can drive onto. Out of the ones I've visited it is by far the best. Though not as big as many of the others, it is a lot LONELIER. We loved it. It also didn't have a seagull-fly-near-you infestation from people feeding them like many other beaches do.
10/10 would camp with great january weather again.