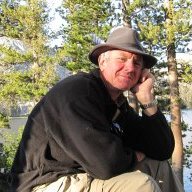 Joined

Sep 30, 2014
Messages

704
This one is not on our maps, but we learned about it from an excellent post on High Sierra Topix by BigTubs. And since we had a couple of days free, and we could get a campsite in Hodgdon Meadow, we decided to give it a try.
On Thursday we left home for Napa, and the timing was right for another excellent lunch at the Old Priest Grade Cafe--we ordered on bratwurst plate and it was enough for the two us. Good bratwurst, sour sauerkraut, nice red cabbage, and a delicious salad for a first course. This plasce consistently lives up to our expectations.
Set up camp in Hodgdon Meadow, then walked the old Big Oak Flat Road outside the campground. The paved part goes to down to Carlon, and we were sorry to hear the trail up to Tuolumne Grove is now abandoned. I rode that fifteen years ago on my bicycle, and it was quite an adventure. We ate a light dinner and were in bed early, since it was dark in the forest by 7 p.m.
The next day we got up and drove to Tuolumne Meadows through the on-going roadwork. The park will be changed once this is all done--far less parking along side the road, more defined parking areas. At least around Tenaya Lake, the whole situation is much improved over the wandering pedestrians, randomly parked cars, and speeding traffic of years past.
The trailhead to Elizabeth Lake was closed, but a cou-le of backpackers in front of us told us they were given permission to go around the barriers, so we followed them. Hope we don't get fined. We met up with them about a mile later, when he was massaging her cramping leg on the trail. Since he was Swedish, we assumed he knew what he was doing!
Once at Elizabeth Lake, we just turned and headed up the ridge towards Johnson Peak. At first we aimed too far north, which took us away from the route to Chiura Obata Lake, but did get us to a wonderful view of Tuolumne Meadows. We corrected course and hiked up a broad plateau that sloped up to the lake, and after negotiating a short, steep section we were rewarded.
What a wonderful alpine plateau, with three lakes, towering peaks, and magnificent views of the surrounding high country. We will certainly do this hike again.
On the way back we took the shorter and more direct shorter route down, basically following the outlet creek from the lakes. It was steep, but manageable. We still had only seen the one couple, but once we started back down the trail from Elizabeth Lake, we ran into a few hikers---including one who started at M for a few seconds, and then said; "I've got your earring."
And she did. It had fallen on the trail and M hadn't noticed. Sometimes it's better to be lucky than good. We wrapped up the hike, drove back down to Sonora to have pizza, and showered and slept in our own bed back at the cabin, feeling damned tired and very happy.
As usual, the photo log is here;
https://photos.app.goo.gl/c3FTy1jAJigNDbxX7