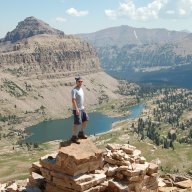 Joined

Apr 27, 2013
Messages

61
Took the family on a nice hike from Crystal Lake trailhead past Wall lake to the Notch then cut across to the Divide Lakes, then down to Little Hidden for a quick meal of ramen noodles and Brook Trout. Then back out past Cliff and Watson Lakes ending up back at the truck. All tired and hungry but very satisfied from a great hike full of wildflowers, mt goats some decent fishing and good family fun.
Wall lake as can be expected was pretty crowded with scouts and various groups but once we left Wall lake we didn't see anyone else. There was one couple that were just hiking to the Notch and back but it was surprising to me to see how few people there were on a fairly popular trail. The ponds and meadows between Wall lake and the Notch were so beautiful on this hike.
The Wildflowers were especially bright and abundant.
Everywhere they could get a foothold the flowers were at their peak, even in the cracks of the cliffs
At the furthest point on our hike we stopped to have some lunch. more wildflowers along the shores of Little Hidden Lake
On our way back, more wildflowers
Just before dropping down that last hill to the trailhead, I loved the view across Cliff Lake
Featured image for home page: