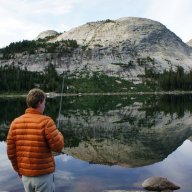 Joined

Apr 16, 2016
Messages

121
Hi, my name is Gabe, and I hail from Boulder, CO. I've lived here for 6 years, and before that, I lived in the South (Alabama).
Moving to Colorado changed my life, and I've been hooked on the trails right from the beginning. I've been on pretty much every trail and foothills peak in the Boulder area, have climbed six 14er's (looking to add more), and most enjoy backpacking in the high alpine mountains.
As much as I love Colorado, my heart is really drawn to the mountains of Wyoming. They are so much more beautiful and wild than the mountains here in CO. I was turned on to them by a backpacking trip to the Cirque of the Towers 3 years ago, as well as a family trip to Yellowstone in my youth. Honestly, most of my spare time is spent researching the trips I'll be going on this summer. I'm addicted to looking at maps and guidebooks; I have quite a collection now.
It's an obsession that I'm proud of, and it seems like BackcountryPost is a great community to share that passion with!