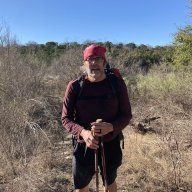 Joined

Jan 18, 2014
Messages

375
Part one, " Meetin' th Yeller Fellers". We met up at th West Yellowstone NPS visitor center parkin' lot n then our intrepid explores made their way to a local sandwich shop for provisions.(good eatin!)
It had been months gettin' to this point of just putti' my feet on th trail. Back in Feb had a big toenail fall off n battle fungus on it, then in May injured th Achilles' tendon on th same foot…but wait, there's more, June came and I broke th pinky toe on th other foot..it wasn't lookin' too good for a trek into th backcountry at that point. But with weeks of PT on th tendon, as ya can see, I made it.
Ahhh, fall colors were everywhere! My favorite tree ,Aspen, was turnin' their yellow hues. The avg temps in th park are low 70s and right bout 38 in early Sept. I'd been lookin forward to this as Austin had been hot n humid all summer! More to come on how Yellowstone turned up th thermostat on me later…
After walkin a piece, we came to th official border between NPS and USFS. Suffice ta say, I was a bit giddy ta finally be here.
A little bit bout this area, th Gneiss Creek backcountry campsite is the most remote one in th park if ya look at distance between sites. Th trail starts on th NW corner of th park and heads over to th Madison River bridge that ya get to from th West Yellowstone entrance. Mostly meadows, up n downs, and very little shade, this area is also a bear management area. Due to all this it's rarely used as a campsite. Oh, there are supposedly a wolf pack in th area too.
On and on we go…
It's close to 80 today, but the signs of fall are all around…( where's that cool weather Yellowstone?)
What we all would have given for some of these bridges th next day!
The colors, camaraderie and crisp WARMair…did I mention it was warm?
go yeller fellers! Go.
Glorious shade….on the first day..note that when need on day 2, it is conspicuously lacking.
The wide open views were spectacular..with just a hint of smoke in th air, I was anticipating a great sunset!
Headin' into camp.
Made it to our home for a few nights!
Tents set up for easy grizzly access from th willows.
As the sun slowly slips silently and stealthy into th mountains we prepare to get a fire goin', as Yellowstone turns down th thermostat.
Bison chip fire…Native American style!
Yes, I'm Native American (Chickasaw )
By th dim glow of a shrouded campfire we sat and visited well into th night. Side note here..this group of four gentlemen, and I use that term very loosely, has been comin on a yearly trip for a few years and I was truly blessed to be invited and welcomed into their group…I was truly humbled and grateful for this blessin'. As We headed to bed, I anxiously awaited for what was in store for our intrepid explores when the sun would come up as I was in for my first of many I hope, Scatman, led, approved and planned day hiks.. It was to be more than I could ever hope to imagine. In more ways than one. Stay tuned for the thrillin day 2 , "I thought he'd kilt me!"