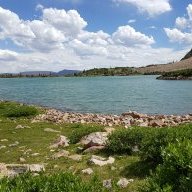 Joined

Aug 8, 2016
Messages

2,071
Since Christmas this year is going to be unlike any other I have experienced I've decided to try something a bit less traditional. Rather than being the dark cloud in the corner with my daughter and her family I have to decided to take an impromptu day trip somewhere here in Utah with the hope of relieving my emotional burden, even if just for a few hours.

Many of you know the Uintas are my usual go to area but of course not available at this date. I'm hoping you all could maybe suggest something southward where I could see some new country, perhaps even taking a shortish hike to see something amazing to brighten my spirits. I was thinking perhaps the Swell might be an option. That's about 4 hours away from my house. I'm not planning on staying over night but that is not necessarily out of the question.

Can anyone make some suggestions in that area or even somewhere else where elevation wouldn't complicate things due to snow? Pretty much the only place south I have ever explored is Capitol Reef but that might be too far and I would love to see something new.

Ideas?