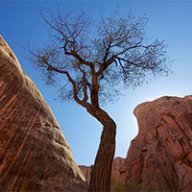 Joined

Aug 9, 2007
Messages

12,947
I was supposed to go on an epic technical backpacking loop through the Grand Canyon next weekend, but my knee isn't cooperating and I had to cancel it. But I'm not totally giving up. I still have 4-days to spend backpacking and I need some ideas. Here's the criteria:

- Lots of water would be ideal

- Dry camps are okay but only if they aren't TOO dry. Meaning I can't hike 12 miles to a dry camp but 2-4 would be okay.

- Being able to see where I put my feet is a must. Sounds stupid, but hiking in brown water is super difficult for me right now (Black Hole, Black Box, etc.)

- Minimal down climbing

- Incredible scenery (duh)

So any ideas? We leave Wednesday night and I have no idea where we're going! Help!