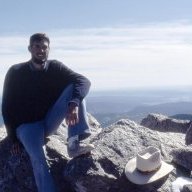 Joined

Feb 1, 2014
Messages

412
My wife thought we should do something special for our 30th anniversary and that special thing would be to go to Alaska. I grew up in the desert and have never been all that interested in Alaska cause I thought it was just a cold wet place. But I've had a number of friends who went there and came back raving about what a great place it was. So I said, "Sure, let's go to Alaska" and she signed us up for a tour. When I found out that one of the places on the tour was Denali National Park I thought, 'Denali is one of the hiking Meccas of the world. I can't go there and not go on a hike. ' so I started trying to figure out what was there that I could do. It turns out that, for a National Park the size of some states, there are only a handful of established trails. Access into the Park is very limited and only two trails near the entrance allow unlimited access and one requires transportation to get to the trail head. In addition I thought that going off trail would be unwise since I expected to go by myself. So I picked the trail closest to our motel which is the Mount Healy Overlook Trail. On the bus my wife was telling a couple ladies how her crazy husband was going hiking the moment we got to the motel. One of their husbands overheard that remark and told me that he'd like to come along. John and I left the motel about 6:30 pm for a hike that turned out to be 9 miles round trip and 2000 ft elevation gain and loss. I was so concerned about the late start that I didn't take any pictures till we got to the overlook. I thought we'd be hiking in the dark on the way back and I had failed to bring a headlamp. We got to the overlook somewhere around 9:00 pm. There was plenty of daylight left so we stayed and enjoyed the awesome view and didn't hurry back. The sun began setting on the return but it never got too dark to see even when we arrived back at the motel at 11:30 pm.
I hope that all of you get the opportunity to visit Denali too.
John at Mt Healy Overlook
The view south at the Overlook
The remainder of the pictures were taken on the way back down.
The overlook is in the sunshine on the right side of the picture.
Many of the pictures are panoramas and can be better seen on Flickr at
https://www.flickr.com/photos/95721076@N04/sets/72157647699718796/
Last edited: