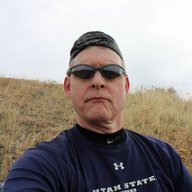 Joined

Dec 23, 2013
Messages

3,155
I'll never swim Kern River again
It was there that I met her it was there I lost my best friend
And now I live in the mountains I drifted up here with the wind
And I may drown in still water
But I'll never swim Kern River again
I grew up in an oil town but my gusher never came in
And the river was a boundary where my darling and i used to swim
One night in the moonlight the swiftness swept her life away
And now I live on Lake Shasta
And Lake Shasta is where I will stay
South San Joaquin where the seeds of the dustbowl are found
And there's a place called Mount Whitney
From where the mighty Kern River comes down
Well it's not deep nor wide
But it's a mean piece of water my friend
And I may cross on the highway
But I'll never swim Kern River again
Sorry, I got distracted by Merle.
It is a mean piece of water though.
Kern River - July 2017
It was blood donation day today, so today's hike was my old standby, Mount Wire.
We got our first big snow in northern Utah yesterday, so I was anxious to give Wire a try with the white stuff. Actually, Mount Wire just after a snow is a really beautiful hike, with snow on the scrub oak along the trail, and the valley air cleared out of the pollution.
Before. The Subaru is back! New starter motor, rotors, pads and one new caliper.
The trail
Stansbury Island in the distance
The Wasatch Front
Red Butte and the Living Room upper left
More trail
This guy and his dog were looping Wire three times. I was impressed.
Living room intersection with the Mount Wire Trail
Cool looking conifer
View from the Mount Wire Trail
Tunnel ahead
Red Butte Canyon
Lookout Peak
A peak over Red Butte to downtown. You can see all the way to the Lakeside Mountains in this shot
View out into the valley
Antelope Island in the distance
Blue skies and a mountain mahogany
Summit of Mount Wire in view
View to the east along the Mount Wire Ridge
Summit shot - 25 degrees up top and a stiff wind blowing
View to the north
View to the east
View to the south
View to the west - The Oquirrh Mountains along the west side of the Salt Lake Valley
Another shot of Antelope Island
Mountain mahogany
The west side of Mount Wire
The trail up Red Butte
Looks cold
After.
I can't match
@Titans
and
@Ugly
's culinary expertise, but Saturday is pizza night at the Scat house and after a nice hike and donating a pint of blood, I could probably have eaten two of these - chicken garlic with green onions and tomatoes.
I load my side up with veggies so I can pretend that it is good for me.
And along with the pizza, I'm planning on enjoying my one beer a week, a pecan pie porter.
The End
Last edited: