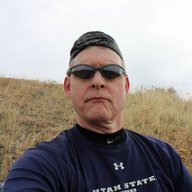 Joined

Dec 23, 2013
Messages

3,425
On my dad's 90th birthday, I hiked to the top of Mount Wire today. This report is actually for
@TractorDoc
. No need to put it on the slide show, as everyone has seen this route multiple time from me now.
I should say that the lower foothills were popping with wildflowers today. It's always special to hike in the spring when the wildflowers begin to bloom in earnest.
Arrowleafed balsamroot was prevalent today, in the lower foothills
Phlox too.
A few bluebells along the trail
Western waterleaf
View to the south from the trail
Cryptantha
Mount Wire Trail
Ladybug
Stickseed
Red Butte Canyon
Lookout Peak at the head of the canyon
Mules ear coming up
Paraglider in action
My boots from the Gila River Trip
My favorite Mountain Mahogany
Glacier Lily
The old beacon at the summit
Yours truly.
BCP welcome to all. Could you sense this
@Rockskipper
?
Another shot of the beacon
Western Wallflower
More Wasatch Front
Cedar
Arrowleaf Balsamroot
Milkvetch
Utah Serviceberry
More balsamroot
Oregon Grape
George's Hollow
More vetch
More balsamroot
Back to the Jeep.
And to finish off my Big Bad Baptist Rare Release Series for my Saturday night beer.
The End.