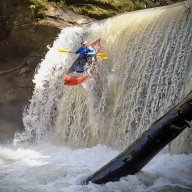 Joined

May 3, 2013
Messages

556
Tucked away in the southwest corner of Virginia, Mount Rogers and vicinity...Grayson Highlands State Park, Little Wilson Creek and Lewis Fork Wilderness Areas...is an Appalachian treasure. Located in the George Washington National Forest near Abingdon and Damascus, VA, these areas are very well known with the Appalachian Trail crowd...some of the best Mid-Atlantic sections are found here...and also well known for world class mountain biking, rock climbing and beer drinking with the multitude of breweries found in the region.
Mt. Rogers itself is the highest point in Virginia at 5,729'. No views at the top, but a cool hike thru a surreal forest. The views are found along the extensive trail networks around Wilburn Ridge, Pine Mountain and Grayson Highlands. Open mountain balds, spruce-fir forests and the highlight for many are the wild ponies, thought to be related to the feral Assateague horses on the coast.
Tuesday morning...
Wednesday morning...
camp amongst the wild pony poop
5,729' Mount Rogers, the underwhelming highest point in VA
Early morning clouds and fog took over for most of the day. This place makes its own weather.