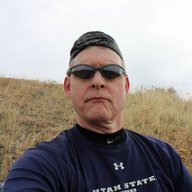 Joined

Dec 23, 2013
Messages

3,425
On Friday, I completed a 13.2mile lollipop loop which included summiting Mount Raymond and Gobblers Knob. I began at 6:30 am at the road in Millcreek Canyon and finished about eleven hours later. I accessed the Mount Olympus Wilderness via the Bowman Fork Trail, where the wildflowers were plentiful. I summited Raymond first before heading over to Gobblers. I had an interesting encounter with a rattlesnake on one of the scramble sections just before the summit of Raymond. After summiting Gobblers, I made my way down into Alexander Basin, before hitting the connector trail that took me back to the Bowman Fork Trail. As the day proceeded, it became hotter and hotter. I consumed just about a gallon and a half of water/Gatorade on this one.
Here are some shots of my hike.
Overview map of my route
Closed gate to the Terraces Picnic Area where the official trailhead is located, about 1/4 mile up the road.
Mallow Ninebark
Wilderness Boundary
Thimbleberry
Geranium
Columbine
More Columbine
Wasatch Beardtongue
Mule Ears
Starting to break our with some views - Peak 8656
Lupine
Wild Rose
Cinquefoil
Scarlet Gilia
Yellow Salsify
Monument Plant
Ninebark along the trail
Mount Raymond comes into view
Connector trail junction sign that I would use to get back to Bowman Fork
Aspen
View back down the lower end of Porter Fork with Grandeur Peak in the distance
Canada Violet
Deer ahead
Mount Raymond
Looking back towards Millcreek Canyon
Mount Raymond, viewed from Baker Pass
Working my way up the ridge
Beginning of the first scramble section
Ran into this guy on the second scramble part
For whatever reason he never rattled at me
Peek-a-boo
And off it goes
Almost there
View of Wildcat Ridge
Geologic Survey Marker on the summit of Raymond
A look up Broads Fork Canyon, across Big Cottonwood Canyon, with Dromedary, Sunrise and Broads Fork Twin Peaks
Hey
@The Trout Whisperer
, I found this rusty saw on the summit. I figured we could use it for your toe issues instead of the hatchet.
A look to the east at Gobblers Knob
A view up Big Cottonwood Canyon
Gobblers Knob from Baker Pass
Looking back at Mount Raymond, viewed just off the summit of Gobblers Knob
On the summit of Gobblers Knob
Heading down off of Gobblers towards Alexander Basin
View down into Alexander Basin
Cut-leaf Kittentail
Some snow still left in the basin - Millvue Peak in the distance
Continuing down the basin with (L-R) Mount Aire, Peak 8490, Millvue Peak, Peak 9074 along the Millcreek ridgeline
Junction sign for the connector trail that leads back to the Bowman Fork Trail.
@regehr
had warned me that this trail was for the most part uphill, and he wasn't kidding. Not
only that, but there was quite a bit of downfall across this trail too, and the day was really
beginning to heat up. My legs were tired by this time, so this was a tough stretch for me.
I had the connector trail blues.
Don't tell anyone, but I might have been mumbling
to myself and drooling along this stretch.
Where's the trail crew when you need them?
There were excellent views from the connector trail though. This shot shows an excellent view of the hike I did the previous week
from Mount Aire, east along the ridgeline to Peak 8490 and beyond.
Kissing the junction sign that marked the end of the connector trail.
Almost back to my Jeep which is parked across the road.
The End.
Last edited: