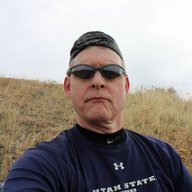 Joined

Dec 23, 2013
Messages

3,158
My daughter is on her spring break this week and I decided to take a day off of work so that we could hike up Mount Olympus. Yes, I've posted reports of this hike in the past, but hey it's Mount Olympus!
We arrived at the trailhead at 7:45 am with the temperature hovering around 45 degrees. We made our way up to Tolecat Canyon where we took a short break and then on to the saddle where we took a second break before heading on to the top. While on top, it started to snow as we ate our lunch, but on the way down, the sun poked its head out as we made our way back to the trailhead.
Hey look what I found, a trailhead
The stairs to Hell. My knees groan when I approach these.
Am I going to have to put up with your shenanigans this entire hike?
Looking south along the Wasatch Front
Mount Olympus Wilderness Boundary sign. Oh, and some ugly dude.
Glacier Lilies beginning to show their faces
Good view of Suicide Hill
Arriving at the stream in Tolecat Canyon where we took a break
Katie, making her way up Suicide Hill
This is where the rock stairs up to the saddle begins - Aargh!
Scatman down! Scatman down! I think I have posted more pictures of myself after falling than any other member. Is there a prize for that?
Is the Scat Universe trying to tell me something? Hey
@Artemus
, do you think your new truck could pull me back up?
Scat against the machine! It has a nice John Henry ring to it. I'm sure the movie will be a giant success.
Western Ridge of Mount Olympus
Looking up at the top of Mount Olympus
View from the saddle
The Wasatch Front
Some neat looking icicles on our way up to the top from the saddle
Straight up at this point
Are we there yet? Why did I agree to this?
On top
Wildcat Ridge
Scat Blood! This brings a premium price on the black market.
I scraped my elbow when I fell earlier.
Yes, I can fit an apple into my mouth - and for my next trick. Notice that it is snowing?
Getting ready to head back down. North Summit of Olympus off to the right.
The sun popped out on our way down. Looking back towards Mount Olympus
The Jeep eagerly awaits! I've hiked up Mount Olympus 30-35 times over the years and I can promise you that I have never been able to park this close to the trailhead before.
The End.
Last edited: