Joined

Feb 23, 2012
Messages

644
No extended thru hike this spring for me.
But... I did manage to get back to southern Utah for another 5-day loop exploring Escalante's "Lower East Side".
Actually... it wasn't really the trip I imagined. After I wimped out and couldn't make it over a dryfall climb solo, I had to ditch the plan to get all the way down toward (or even into) mid-Stevens Canyon and loop back via Halls Creek Narrows and the Red Slide. Instead I looped through the Moodys before finding another way to the top of Fold and then back to my Jeep.
Please check out the
detailed trip report on my site
if you want all the minutia. There's also an
extended gallery
with a bunch more photos. The
Hike Video
is also posted later in this thread. Otherwise here are the highlights from the trip:
I headed down the Moody Canyon road to car camp near Middle Moody Canyon and the Purple Hills
I hiked down the semi-entrenched and mostly dry Middle Moody before hitting the junction of main Moody:
More and more red boulders filled the streambed as I made my way toward the Escalante, but they never did really pose any major problems. Before too long I was to the river:
Traveling downstream I fought the brush for a while. Eventually I just got in the water and headed downstream. Much easier -- though there were some spots with deep sand. Later the shoreline was more appealing with less brush and I quickly made my way down to the junction with East Moody where I camped:
Next day I headed up East Moody. The first few miles are really spectacular. While chilling under a cottonwood I got to watch a humming bird on a nest.
The mid and upper portions of East Moody are fairly wide open and dry with a good amount of petrified wood, but with little to no shade it's not a place one will likely enjoy in the summer:
My goal was to go up an upper branch of a branch of this canyon to get up on top via the "Sheephunter Route" as described in Steve Allen's Guide. I was glad to find a nice trickle of a stream just before I had to climb up the unmarked ravine full of boulders:
I passed a few bighorn sheep on the way up. When I got to the top I could see the 10' wall which needed to be scaled as described by Allen. BUT... before I could even get to that point my progress was stopped by a dryfall which had scoured out the floor below.
I actually worked on that "assist" for about 30 minutes in order to double its height and make it more stable. Despite my effort I still didn't make it up. It was somewhat awkward the way the ledge was overhanging and there weren't any great handholds. Two people probably wouldn't have a problem here, but solo and w/o a SPOT or communication device (and no planned check-in for a week!)... I played it safe and chickened out.
With that I backtracked to the middle of East Moody and then took the north branch which leads to a pass connecting to Middle Moody. The view toward Deer Point from the pass:
From here I wanted to head northeast and explore another canyon which I thought may provide access to the Fold. I camped near the bottom where there was a nice little stream and at least one resident (tiny) rattlesnake:
The next morning I headed up and was surprised to find cairns marking a faint trail up the canyon. The route primarily stayed on the high slopes above the creek before returning to the now-dry streambed above a dryfall:
A little farther up I got worried when ahead I saw what appeared to be a 25' dryfall:
But, upon closer inspection the pile of rocks on the right step up to about a 5' climb giving access to a ledge which leads to an easy ramp up (possibly constructed.) Only a short solo backpacker would have a problem with this obstacle.
Farther up canyon there were more pools of water and more dryfalls which had to be bypassed. Finally I decided to climb up just to get to the rim and easier terrain:
I hiked around the head of the canyon and toward the ridge of the Waterpocket Fold. Unfortunately the terrain is so flat up there and covered with junipers it obstructs views to the incredible terrain on either side. I managed to get to a spot with a decent view down towards Hall Creek and on to Bullfrog Bay:
From here I headed north. It was a slow grind across the flat trying to avoid juniper branches and patches of cactus. I finally got to the view I wanted... where the cliffs drop 500+ to the undulating terrain below as the Fold runs north. In behind stood Swap Mesa and above that Tarantula Mesa which looked small compared to the Henrys with fresh snow.
Pictures can't do this place justice -- especially on an overcast day like it was -- but here's a stitched panorama:
And my camp:
I was fortunate that the sun broke through for about the last 20 minutes of the day. It still wasn't enough to make for the best pictures, but it was magical in person:
The next morning I enjoyed the view again from my tent:
Then I decided for the second time in 3 days to play it safe. Instead of trying to find a way down the eastern side of the Fold and then hike back up the Red Slide, I decided to head back down the access canyon I came up to ensure that I had a known route and plenty of water (there was none up on top.)
This plan also let me check out the "North Pointy Point" as I called it -- the little tip that juts out toward Deer Point. Unfortunately the point isn't as prominent as it looks on the map making it semi-impossible to get the 270-degree view I had imagined. Here's my attempt:
From here I trekked back toward the access canyon. Occasionally there were good views to the west, but mostly it was just a slog. Going back down was fairly uneventful and I was happy to have water. Once down where I started up, I followed an interesting branch of Middle Moody all the way down. It required several 6-10' drops, but nothing technical.
Just after sundown I was back to the Jeep where I got to indulge in some of the 'heavy' food that I'd left behind.
It was a good hike, but I have to say that it's not a region I'd put high on the list to visit again (except for that awesome view of the Fold -- maybe accessed via the east.) Probably the best feature to the area is solitude -- I saw ZERO people in two days of driving and 5 days of hiking!
Again -- for more see the
detailed trip report on my site
or the
extended gallery
.
Thanks,
- Jamal
Featured image for home page: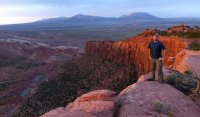 Last edited: