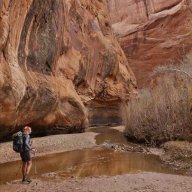 Joined

Jan 4, 2015
Messages

2,787
Note - BCP gurus, if you think that this thread is out of line, my apologies. Please message me and I'll remove it.
This spring, I'm doing sections 2 and 3 of the Hayduke Trail. I'd venture that some people on this board are somewhat familiar with the route, but just as a crash course (this from hayduketrail.com)-
The Hayduke Trail is an extremely challenging, 800-mile backcountry route through some of the most
rugged and breathtaking landscapes on earth. Located entirely on public land, the trail links six of the
National Parks on the Colorado Plateau in Southern Utah and Northern Arizona with the lesser known, but
equally splendid, lands in between them [...] The Hayduke Trail is not intended to be
the easiest or most direct route through this incredibly varied terrain, but is rather meant to showcase the
stunning Redrock Wilderness of the American Southwest.
Anyhoo, the chunk that I plan on doing runs from Moab to Hite Marina on Lake Powell. the trail passes through Indian Creek, the Needles, Beef Basin, Dark Canyon, and a few other areas. The "trail" is not really a trail at all, as more than 80% of the route's mileage is off-trail. The Hayduke features very remote country, big water carries, and stunning terrain. I'm really excited to get the chance to hike it.
And here's the sales pitch - looking for somebody to ride with between Hite and Moab, in either direction, on either April 25 or May 3. I'm planning to park my car at one terminus and am looking for a ride to the other terminus. Lunch and gasoline is on me. If you're headed down to Cedar Mesa,Lake Powell, Mexican Hat, etc, and want some company on the long drive, let me know! If you're only going part of the way, (say from Hite to Blanding only), I'd be interested in making something work.
Feel free to message me if there's anything you don't want to say on a public forum