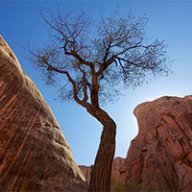 Joined

Aug 9, 2007
Messages

12,934
Just when you guys thought I'd given up on posting trip reports, here I am with my fourth in just over a week! That's what December is for after the year I've had, and I like it. This was my first backpacking trip of the year in early April. I'm going to be deliberately vague on exact locations. This isn't some crazy unknown place, and it shouldn't be too hard to figure out from the photos and other pieces of information. I just don't want to unnecessarily broadcast the exact canyons. If you know where it is, great! Just keep it to yourself in this thread.
Our original plan for this weekend was to do a loop in Grand Gulch. But reports of dried out springs made that a little less appealing and this route has been at the top of my Escalante to-do list for years so it was an easy decision to make. Plus we got to bring Sage! After dropping off my truck at our exit point, we all hopped into Art's truck and made our way to the start of our hike. Group portrait below of
@Jen
,
@Artemus
,
@neiloro
, me, and of course Sage.
Our route begin with a walk down a dry wash bed, eventually giving way to cottonwoods with fresh leaves.
Like many Escalante canyons, water started to flow, and then it would stop and start again.
I was with a bunch of posers on this trip, so there's lots of people photos. Like this one of
@Artemus
.
Soon the walls narrowed.
The Alamo.
We stopped to look at some cowboy glyphs and a stupid yellow plaque explaining why they are there.
We settled on a sandy bench near the river for the night and took in the view of the sunlit cliffs above us.
Photo by Jen.
The next day started with a short walk to the mighty Escalante River. We would follow it for most of the day.
Like I said, posers.
Art was happy to be walking here. We all were. Thanks for the inspiration for the name of this report, Art.
At one point we dropped our packs and explored a side canyon.
Eventually our progress was halted by a dryfall.
Back to the river. We stopped and took a bath in the pool ahead.
It was a mild winter. It looked like the cottonwood leaves had hardly been bothered since falling months ago.
Soon we reached our exit canyon and continued up it a mile or so to our next sandy campsite.
The next morning I went on a walk to do some business and stumbled upon some interesting things. I returned and brought the group up to see.
Art approves.
Further up the canyon, we found more things.
And some more modern things. Nice work, but I had to make it natural again.
We found this in an alcove. Not sure how old it is but it is solid. There would be no returning this to it's natural state.
Further up the canyon we dropped our packs and explored another side canyon. This one was lush with cottonwoods and vegetation, including a healthy amount of poison ivy.
Our progress stopped at a dryfall. For those on a different kind of adventure, this would be the final rappel.
Poison ivy.
Back to the main canyon we kept going up. Things started to get a little skinnier. Art kept posing for me.
Boo!
Art showing off his custom embroidered ULA pack.
Sage was getting tired.
Soon things started to open up a bit, but not too much.
We found a camp near another side canyon and dropped our packs to explore this 'poison ivy fork'. The vegetation was thick and signs of previous travel were few. I'd like to come see more of it another time.
Back at camp, Art picked up my camera and snapped a shot of the evening ritual.
The view from the tarp on night 3.
The next day we got up and started the walk out. The cottonwoods and flowing water would not last long as we entered more arid terrain.
But a little moisture still popped up here and there.
Sage was still tired.
The chinle takes over as we head further up.
And Sage is still tired. All in, we put in about 35 miles over the 4 days. It felt good. My recent weight loss and general health improvements made it feel 100 times better. I can't wait to go back.