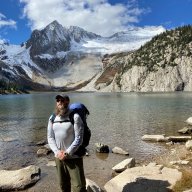 Joined

Feb 14, 2023
Messages

75
I've been lurking on this forum for a while, thought I'd finally post something to share with you all.
Last summer, a couple of buddies and myself decided to book flights from the east coast out to Denver, hoping to do a 4-5 night backpacking trip around the beginning of October. We had a handful of destinations in mind, knowing we were going to be in that window that could be winter weather or wildfire season. We laid out a few options, knowing we'd wait til the week before, and head for whatever trailhead had the best weather forecast. Eventually we decided on Maroon Bells, but chose not do the 4 pass loop, mainly due to the shuttle & parking situation we wanted to avoid.
It was a hectic trip starting off. I'd just finished up a big Yellowstone trip, and had to fly back to SC to work for a few days, & then back to Denver. My friends had flown out a few days prior, picked me up from the airport around 1pm, and we drove straight to the trailhead, only stopping for a pizza & beer dinner.
Day 1
We took a beautiful drive down a few dirt roads, to arrive at Maroon Snowmass Trailhead, around 6:30 pm. Our only plan for the day was to make it in, and find some flat ground with a water source nearby to camp for the night, & officially get the trip started. We hiked through some lovely dense forest, fresh with lots of sloppy mud from the previous days rainstorm, and it wasn't long before we had to break out the head lamps. We followed the trail along Snowmass Creek, trying to take in the scenery while we still had some daylight. We heard a few elk bugling close by, just before it got completely dark on us, though we never did actually see them. We ended up finding a campsite around 8:30 pm. I believe we covered around 2.5 miles and 400' elevation gain.
Day 2
We woke up to a rather nice campsite right on Snowmass Creek, since we'd arrived in total darkness it was nice to see some views of the surrounding peaks filtered through the trees. We got a bit of a late start, due to my lack of sleep flying in the day prior, and the fact that it was super cold that morning. No one wanted to get out of their tents until the sun finally found us. It didn't help that the zero degree quilt I'd ordered a few months prior still hadn't arrived, so I was using my old '15 degree' bag which was really inadequate below 35 degrees. We saw sub freezing temps every night of the trip.
We'd see a lot of brief glimpses of the mountains throughout most of the day. We followed the creek to Snowmass Lake, having to cross it via a pretty sketchy log jam at one point. I was really shocked at how dense the forest was, even as we climbed above 10k. Occasionally the trail would have us traversing a slope or open up into a small meadow that gave us some open views, and the aspens were absolutely gorgeous. Between the late start, and us being slow moving flat landers, once again it was practically dark by the time we arrived at the lake where we'd camp for the night. It was a clear night, and that moon & star light gave us some glimpse of the lake. We covered around 5.7 miles and gained 2300' that day.
Day 3
We woke up to a fantastic sunrise, and unbelievably beautiful sight at Snowmass Lake. Once again we got a late start, this time because the scenery was just too incredible not to hang around and enjoy for a while. We had a decision to make, whether we wanted to head south toward Geneva Lake and commit to making this a big trip encompassing most of the 4 pass loop, or head east in the direction of Buckskin Pass for a lower mileage day. After crossing the outlet stream at the lake, we opted to head east on the Maroon Snowmass trail, finding a campsite where the trail crossed Snowmass Creek. This was only about a 2 mile day, with only a few hundred feet of elevation gain. We found a campsite with some nice open views, collected some firewood for later in the evening, and thoroughly enjoyed our first easy day of the trip. Much to my surprise, we'd only seen one person so far the entire time, that morning at Snowmass Lake. There were a few other tents around, but we never saw any other campers.
Day 4
This would be our most challenging and rewarding day of the trip. Crossing Buckskin Pass & Willow Pass, which had about 6-10" of snow on trail, coming down the north side. It was a day full of mind-blowing wide open views, snow covered peaks, and wild rugged country. We passed 5 other hikers the entire day, and found a fantastic campsite at Willow Lake.
Day 5
We hiked out of Willow Lake and immediately started the climb over East Snowmass Pass at around 12,700 ft. Once again, we encountered quite a bit of snow coming down the northern side, thankfully there some faint footprints that helped guide us, and there was only a little bit of calf high post holing. We hiked down the valley along East Snowmass Creek, which started out with big open views with stunning red canyon walls on either side, and some occasional wooded sections. There were a few places where the trail had washed out from avalanches or rockfall in years past, but none of it was too difficult to navigate. The last few miles had us back into some thick forest with lots of aspens. 8.5 miles and a 4300' descent later, we exited at the East Snowmass Trailhead, and had a short road walk back to the car. We didn't see anyone until we arrived at the trailhead, to find a group starting in just as late as we had on day one. Overall, I really loved this area, and this was a fantastic way to end a pretty great year with some big trips involved. I know this place has a reputation for being crowded, and even for October we probably got lucky with that not being the case. I absolutely want to come back here, at least twice, to hike the well traveled Four Pass Loop, and to explore some of the lesser hiked trails in the area.
About two weeks after I returned. home, the cold weather quilt I needed for this trip finally arrived.