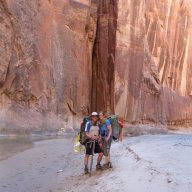 Joined

Dec 5, 2017
Messages

842
I had a couple days off work in mid-May and
@wsp_scott
was amazingly helpful in mapping out possible 3-night routes In Big South Fork (KY/TN) and Dolly Sods (WV). However, my husband had a lot of work to take care of and we didn't have as much time as originally hoped. The prospect of a 7-8 hour drive each way from SE Michigan became unappealing, so we headed up north in Michigan instead. We figured that no matter what we'd get some good exercise and train for our bigger trip out West later this summer. Our expectations were minimal, and we ended up having a great time! It worked really well that we started on a Sunday; we saw some other people, but it wasn't crowded at all and we had no trouble getting great campsites. (We had read that sometimes it's very crowded on weekends.) We could have done this in only 1 night, but the weather was perfect and we were enjoying ourselves, so we spent 2 nights.
Day 1:
We took our time leaving home, drove about 3.5 hours, and parked at the Upper River Trailhead. We went clockwise, first going up the North Country Trail (NCT). Some people find this part boring, and it was not as scenic as the Manistee River Trail, but we saw lovely wildflowers and enjoyed the nice spring afternoon. There are lots of possible campsites (unmarked) along the NCT, and we stayed at a beautiful spot by Eddington Creek (~8 mi from the trailhead) that was in the midst of a pine grove.
Gaywings
Yellow violet
View from our campsite
Day 2:
We hiked down from the ridge and enjoyed our first close up view of the Manistee River. Because of the suspension bridge, the NCT connects to the Manistee River Trail so you can do a loop. You get lots of beautiful river views as it meanders and curves around; most of the time, you walk next to or just above the river, although there are stretches where you're inland a bit rather than hugging a big riverbend. There are numbered campsites along the MRT, and we had decided that around 4:00 we'd see where we were and figure out whether we'd camp that night or head out. It was a beautiful afternoon, so we decided not to rush out and were really glad we spent the 2nd night. We camped at 10B, which is about 10 miles from where we camped the first night and is the last site before the Red Bridge. We had great views overlooking the river, and the birds and frogs serenaded us for hours. Sunset was beautiful!
Eastern Hognose Snake?
Yellow Marsh Marigold
Trillium
The bridge that enabled this to be a loop
One of many great bends in the river
Strawberry
Part of the view from our campsite
Sunset from our campsite
Day 3:
We only had to walk 1.5 miles to the trailhead. We decided to head over to Lake Michigan and took a nice walk on the beach at Ludington State Park. Beautiful way to end a really nice trip!
Lake Michigan at Ludington State Park - about 45 minutes by car from the Manistee River Loop