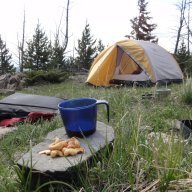 Joined

Nov 11, 2014
Messages

12
This looks like a pretty good fall campsite, don't you think? Lots of afternoon sun , reflected warmth from the canyon walls during the night, nice clear water in pot holes fifty feet away,
These pot holes might not look like much, but finding beautiful clear water like this in the desert southwest will make your day!
and even a cute little fireplace that someone built - even though fires aren't allowed in Grand Gulch. It's nice to look at though.
Of course, sun in the afternoon means no sun in the morning, but that's when we have coffee to warm us up, so it's O.K.
Not a bad view to wake up to.
I've written about Grand Gulch before. It's one of my favorite places, and even after many visits we've only begun to discover its wonders. It's never crowded, and the stretch of the Gulch from the Collins Canyon trailhead to the San Juan River is particularly uncrowded: on our recent three day hike there we saw only 4 people, and they were all day-hikers.
The hike starts out by travelling down Collins Canyon. I'm not aware of any ruins or rock art in Collins, but you do pass by an old cowboy camp that's fun to explore:
At the bottom of Collins, head down Grand Gulch. (By the way - it's easy to miss the confluence with Grand Gulch. One of the day hikers we met wanted to hike up Grand, but he ended up going down canyon because he thought he was still in Collins Canyon. He had a nice hike anyway, but not where he wanted to go.)
The Gulch goes through an area called The Narrows, which can be full of water in the spring. Not a problem in the fall.
The last time we went through the narrows this debris was not trapped between the walls. Wouldn't want to be here during that flood!
The perfect campsite is about 3/4 mile below The Narrows, at the top of a little drainage that comes in on the left side of the canyon. It's not too close to the trail, so if you want to find it you'll need to do some exploring.
It's definitely worth staying a few nights to explore the canyon without heavy backpacks. On a long day hike our second day we came to a meadow that was full of Chukars. Chukars are partridge like birds that were brought from the middle east years ago for hunting. They are chubby and cute and entertaining, and there were hundreds of them in Chukar Meadow. They prefer to run from danger and they seem to have no problem running straight up cliffs.
One was even obliging enough to to run under a pictograph of a quail. (See the handprints on the wall as well?)
The goal of our hike that day was a panel of rock art that I remembered from our last visit. It of course was further than I thought it should be, but after a few more miles we found it. And yes, it is still amazing. My favorites on this panel are the two folks waving up the canyon:
These two ravens are a close second, though:
There's so much to see on this panel.
Tennis player?
Guys cut in half...
It's not hard to see why the Anasazi chose this spot for the panel. You can see it from a long way off, and the wavers on the panel have a great view as well:
Back at camp, our view wasn't too bad, either!
Featured image for home page: