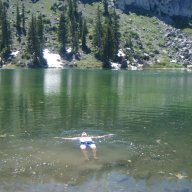 Joined

Apr 27, 2016
Messages

483
I am in need of a new helmet after going head first into a tree. I'm not even completely sure what happened other than I know my front tire slammed into a tree then my head slammed into the tree. The helmet sacrificed itself to save me from even worse injury than I received. No concussion or brain trauma but I did end up with a cervical strain and 4 fractured thoracic vertebrae. The doctor has told me no running, cycling (except on an indoor trainer), or any upper body resistance training until at the earliest early August. So seems I have time to do research on replacing the helmet so figured I would get some thoughts from those of you that cycle.

The helmet I am replacing is a Giro Indicator but I noticed they no longer make that model. I used this helmet for both mountain biking and road cycling, so I am hoping for another helmet that can be used for both. I also liked that the visor was removable so that I could remove it and attach my headlamp when I did the antelope island moonlight ride.

Since the Giro did a great job ideally I would like to stay with that brand, but I am not sure of which model. I am also open to other brands if any of you have had experience with them, particular how they have handled a crash.

Thanks in advance.