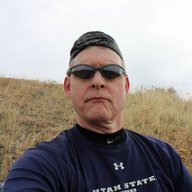 Joined

Dec 23, 2013
Messages

3,434
What is this counter balance method you speak of?

Once the Circus Peanuts start fermenting I get a bit wobbly on the trail.

Will the counter have the kitchen sink installed? Might as well pack one of those in too.

How much does it cost to rent a Llama?
The counterbalance method is where you attach a second pack to the front of you to counterbalance the weight of the pack on your back. You'll find this handy when carrying all of our camera gear.
The cost is a lot more than we can afford.