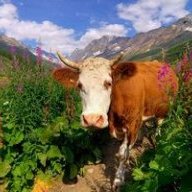 Joined

Dec 18, 2012
Messages

83
Yet another trip report from over the pond.
Since we cannot travel right now, you can still watch some pictures from where you can't go.
This is my contribution against boredom, for those who can't get out.
This was the last hike in 2019, it was on October 13th.
Again, my daughter and her boyfriend came up with the idea of doing a moderate hike.
This time, we went to the Hoch-Ybrig region, where we went sikiing earlier the same year. It is a popular ski area, as it is only one hour from Zurich.
We started at Oberiberg and took the chairlift to Laucheren, from where the trail goes around a small mountain which is called Laucherenstöckli.
I like circular hikes because I don't have to care about getting back to the car.
The foilage was surprisingly colorful.
A look back from where we came from.
The trail goes up and down and it's quite nice.
Some might recognize this picture from the Fall Colors 2019 thread.
Some more autumn colors...
I particularly loved this part of the trail.
At some point, I got the first glimpse of the Mythen mountain.
The Grosser Mythen (it's actually two mountains, the small and the grand Mythen) is on my bucket list.
There is a club, the "Hunderterclub", which you can join only if you have hiked the Mythen a hundred times in one year.
Someone has climbed it the 5000th time in 2019!
I've never seen a bluer flower than this one. It must be some sort of gentian, probably Gentiana brachyphylla.
Mushrooms at the roots of a fir tree
An old fashioned haystack
Approximately halfway round, after quite a steep section, we got a nice view over Lake Lucerne.
The high mountain in the distance is the Pilatus, Lucerne's local mountain.
Looking south, there's a nice mountain panorama.
Toadstool mushrooms along the way...
The Mythen again...
And in the middle of the picture, you can see the Rigi mountain.
Rigi at the left, Mythen in the middle.
Another sort of gentian (Gentiana germanica ssp.rhaetica)
On the way back, we came across a little wooden chapel
This section offers a nice view over the Hoch-Ybrig area.
Shortly before we reached the chairlift station, I stumbled unpon this flower.
It looked like chives flower, it smelled like chives, so it must be chives. I have never seen it outside of a garden, I din't know that wild chives exist here.
That's it, thanks for watching and have a good time!