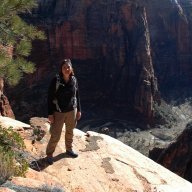 Joined

Jul 16, 2014
Messages

100
This was back in the beginning of November. A group led by my son was going up Lady Mountain. Lady for those of you who don't know it is an old park trail which was abandoned due to numerous accidents. They took down the ladders and chains and now it includes two short sections where one of the group has to climb up and set up a rope. A chimney which is rated 5.3 and a short pitch at 5.7. We took harnesses for the first and set up handlines at the second and two other exposed sections just for safety. This hike was a stretch for me as I have to work with my fear of heights, but it was a supportive group who I knew would be my best chance.
This is the view from the Emerald Pools area. Looks pretty improbable from here. The entire trail is 5 miles roundtrip but the elevation gain is around 2600 feet with 2300 in about 1.5 miles. Starting out at the Middle Emerald Pool, the Park allows Lady Mt. hikers to access through a closed section of trail. This section was closed due to a landslide which is past our start.
Look closely and you'll see the moki steps on the left.
Painted arrows from the old trail.
My son starting the chimney climb.
After a bit we come to the second technical section, which we handlined.
Then the "endless staircase"
Getting closer to the top. The views are just amazing!
Finally, we reach the top and the marker, still in place from when it was an official trail.
Made it and now I get to pose for pictures. You can tell I'm not much of a poser.
We had been in Behunin canyon this year and it was fun to see it from the top here.
Phantom Valley
Now time to head down and get to Oscar's for beer!